With a track record of establishing new brands and delivering strong growth for leading names in the EMEA markets, World Marketing Associates (WMA) has been appointed Outline's sales representatives for Europe, the Middle East & Africa.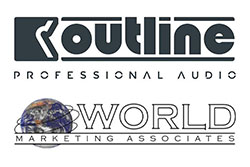 WMA is among Europe's most experienced professional audio/video representatives, with offices in the UK, France and Russia. 'We are excited to be working with Outline,' says WMA's Julian Young. 'Over the years we have followed the company and been extremely impressed with the groundbreaking technologies it has introduced.
'We will provide support and advice to the Outline distribution network as the world gradually reopens following the Covid-19 pandemic, offering help to the distributors with their sales and marketing programmes. WMA will be an additional member of the Outline team, helping to grow and strengthen the business and relationships with the office in Flero.'
'Our product range is the most comprehensive it has ever been, covering everything from discreet installations through portable systems, dedicated cinema and stadium designs, large-scale touring line-array products and much else,' says Outline CEO, Giorgio Biffi. 'Our Newton processor has literally changed the way many professionals work in numerous projects and the pace of our continued innovation and growth continues.
'Having WMA's expertise across our EMEA markets will extend Outline's reach across numerous market sectors by actively assisting our established distribution network and forging new relationships. It's a very exciting time for both companies.'