Playing her first live show in 2019, industry awards and critical acclaim have pursued 21-year-old Arlo Parks over the intervening 18 months. Her single 'Eugene' was written while she was still at school, yet found its way onto Michelle Obama's Spotify playlist. Fresh from winning the Mercury Prize for her 2021 debut album Collapsed in Sunbeams, and with live music returning from its coronavirus hibernation on both sides of the Atlantic, the London native has embarked on a promotional tour of the UK and US in support of the critically lauded release.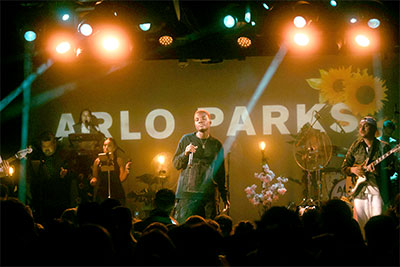 'The live campaign has been a whirlwind experience, with the production fluctuating between small acoustic shows, headline clubs, filmed studio sessions, festivals, award shows, arenas and fly-shows,' says Chris Parker, Project Manager at Patchwork London and FOH engineer for the tour. 'Shows have gone from 150 to 10,000 capacity rooms, and from an acoustic guitar to full 14-piece band with brass, backing vocalists and a string section.'
Despite the number of variables involved with the tour, one constant has been the choice of an Allen & Heath dLive CTi1500 for mixing – a 12-fader control surface housed in a lightweight chassis with titanium side panels, partnered with a DM48 or CDM32 MixRack.
'Working with an artist under the spotlight means it's all been back-to-back, which doesn't give us a lot of time to rebuild the audio package as we go, however this isn't an issue with the CTi1500,' Parker says. 'The dLive workflow for me is second to none – on a rollercoaster campaign like this, I know I can rock up at any scale of show and re-organise my fader banks and softkeys in a way that makes sense for the show.
'In the UK, we've racked up a DM48 MixRack into one of our Patchwork London custom splits racks to give us analogue split options for festivals and recording sessions, and over in the US we've opted for a system of three DX168 expanders connected to a CDM32 MixRack. The whole package fits into three cases – two under 23kg and one at 26kg. The beauty of the dLive system is that you get the full processing power in every package, so there's no file conversion or session restructure.'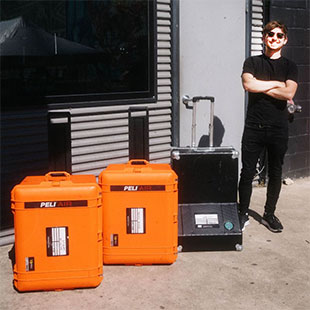 The recent release of dLive v1.9 firmware for the platform added an array of new features, and Parker has already integrated many of these new tools into his workflow, alongside some old favourites.
'The main challenge with a soft voice like Arlo's is filling the room with the vocal. Some PA systems are more forgiving than others, but the Dyn8 [Multiband Compressor & Dynamic EQ] is instrumental in controlling her soft and sibilant voice in a way that retains her true character and timbre in a way that feels intimate,' says Parker.
'With the release of v1.9, I can apply the new Source Expander for some gentle gating, and lock one of the 61-band RTAs onto her vocal group with the RTA visible in the South Area so any feedback squeaks are easily detected wherever I am.'
'We are currently on a five-week US tour and it really feels like just the beginning – the trajectory and ambition of the project is something really exciting and we're all looking forward to what's in the pipeline.' Parker adds. 'dLive gives me the tools to handle the sound andsqueeze in heaps of personality. The audience know they've been to see and hear something with a lot of time, attention and love put in.'
Support from Allen & Heath has also been welcome: 'I feel assured that someone will pick up the phone if I'm ever in a sticky situation, no matter where the tour takes us.