Toronto's historic Elgin and Winter Garden Theatre has installed DiGiCo's new Quantum 338 as part of an upgrade that also included a pair of DiGiCo DMI-Dante 64@96 cards, two DQ-Racks, Glensound's Dark1616D Dante/AES67 8x8 Network Audio Interface and substantial amounts of Clear-Com comms.
'Almost every musical and large show that comes here uses DiGiCo, and I've used DiGiCo extensively for a decade – every console from the SD Series,' says Head of Sound, Robin Johnston. 'We see a lot of SD10s, but the Quantum 338 obviously has even more capabilities, so when it came time to upgrade, it seemed like the right fit. Now everything's running at 96k on the DQ racks all the way to our amplifiers.'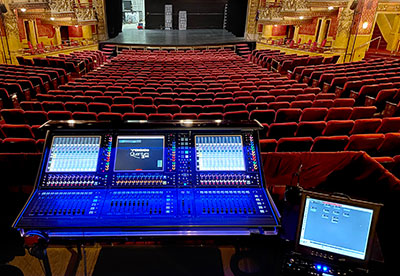 Johnston's choice of gear found him working with GerrAudio Distribution, whose founder, Bob Snelgrove, was instrumental in his decision to take up audio professionally 20 years ago.
The experience with Snelgrove and Gerr proved a game-changer: 'It was a key moment,' Johnston confirms. 'I knew I wanted to be in the business, and that pointed me towards audio. Bob was an early inspiration and since then, whenever I was working at a venue that needed a new console or Clear-Com product, I'd send them to Gerr.'
'While these were the products we wanted, the fact they're distributed by Gerr is fantastic because we know that anytime we have a question they're just a call or a text away,' he continues, returning to the present upgrade. 'My understanding is that Gerr did a lot of the original installation when the building was renovated in the 1980s, so they've been in here since day one.'
'GerrAudio and The Elgin Theatre have a rich history,' Snelgrove confirms. 'When the theatre went through a major restoration in 1987, GerrAudio – actually, it was Gerr Electro Acoustics at the time – was awarded the contract to build and install the audio and communication system infrastructure. This included a Meyer Sound system that remained in service for over 20 years. We're thrilled with their addition of the new Quantum 338 and state-of-the-art intercom system, and are confident that these systems from will serve the Elgin's needs for many years to come.'
Built in 1913, the Elgin and Winter Garden Theatres are the last surviving Edwardian-era stacked theatres in the world. Initially they hosted vaudeville acts and silent films, but when talkies gained popularity the Elgin was repurposed to meet that demand and the Winter Garden was closed. In the 1970s, the Elgin primarily showed B-Movies and soft-core porn. But, after housing the musical Cats from 1985-87, it was clear that dramatic upgrades were part of its future.
After being fully restored and renovated in the late 1980s, it went on to host everything from the world premiere of the musical Napoleon and the 1995 Toronto run of The Who's Tommy musical to Christmas pantomimes, episodes of NBC's Late Night With Conan O'Brien, the taping of Bryan Adams In Concert for PBS' Great Performances and other events including photo and film shoots.
'The first big renovation of the venue since '89, specifically with audio as part of the equation, was in 2011,' Johnston recounts. 'But what was put in then wasn't sufficient to cover the evolving needs of the space. Still, the venue's pre-existing consoles served them well in the interim.'
'The important thing with the Quantum 338 is that it supports DMI Cards and therefore Dante. We have existing Cat5e infrastructure throughout the building – two runs (in and out) to every panel, so that worked perfectly for switching over to Dante because we now have a primary and secondary in every location for our console and Dante-enabled DQ-Racks. So, with the Q338 having that benefit, and the new DQ racks having just come out recently, it was a no-brainer we'd take that direction.'
DiGiCo's ongoing support for legacy products and, as importantly, the cross-compatibility between older and newer consoles also factored into Johnston's decision. As a result, even if an engineer is coming in with little or no experience on the Quantum specifically, they'll have an easier time adapting. Typically, the Q338 will be used for FOH, 'but if a show brings in a different console for FOH they can use the Q338 for monitors'.
While currently there are no plans to replace the systems installed in 2011 in Winter Garden, he adds: 'As soon as there's another opportunity to upgrade, I'm sure we'll go in the same direction there as well.'
The upgrade dramatically increases the fluidity of workflow for Johnston and incoming engineers alike. 'Before this, if I had another operator come in and they had to change or repatch something, it was more complicated than necessary. With the DiGiCo Quantum, I know that every engineer who comes in will be comfortable. Across DiGiCo's whole platform the operating system is very similar – plus or minus a few features here and there. If you know one of their consoles, you know them all. That was very attractive to us. It's a perfect solution.'
Ultimately, the new systems will better support the theatre's clients whoever they may be and what their specific needs. 'This is especially true of repeat clients,' Johnston concludes. 'Obviously, they're going to have much better sound. When you go from our previous consoles, which were made in 2005, to one made in 2020, there are clear sonic advantages, not to mention working at a higher sample rate. Overall, I think it gives the theatre an extra edge. Everybody here is really impressed and happy with the purchase. Now I'm just itching to get to use it.'