The Norwegian Settler's Church (NSC) takes its name from the group of Norwegians who originally settled in South Africa's Southern Natal in 1882. Since, the church has undergone various transformations, but remains the longest serving church in the region. Construction on a new sanctuary began in 2008, continuing to the current day, to accommodate a growing congregation.
Recently, Stage Audio Works (SAW) stepped in to handle integration of the audio. 'It really makes the building work,' says NSC Media and Technical Director. Phillip Kloppers.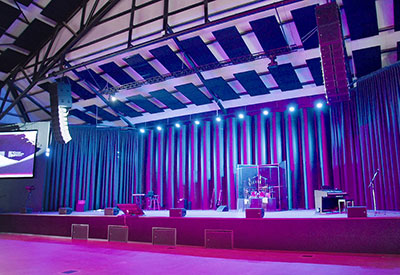 SAW delivered entire solution over the course of two weeks, regarding it as an opportunity to showcase the capabilities of the company's new Plus Audio offering, which claims 'professional grade audio performance at an affordable price point'.
The project brought challenges, however – the team was confronted with an extremely problematic acoustic environment.
The sanctuary is large enough to seat almost 1,500 faithful under a 17m-high ceiling, and has a large hole in the centre of the room leading to an underground car park, resulting in further sound leakage. In Kloppers' words, 'we were looking at a reverb time of around 7.5s to – 8s. It was appalling.'
On SAW's recommendation, NSC brought in Bruce Gessner from acoustic engineering specialist, Acoustic Worx, to devise acoustic treatment for the roof, which brough the reverberation time down to a much more manageable 1.5s to 2s. 'We worked out a phenomenal solution with him,' Kloppers says. 'The space was then ready for the PA.'
Based on the NSC's requirements, SAW specified and installed a complete Plus Audio solution – the first of its kind in South Africa. It was important for the NSC that their existing equipment was utilised where possible, so SAW provided a solution which incorporated this seamlessly within the new system. Taking the acoustic environment and architecture of the room into account, SAW opted for a line array solution comprising LR hangs of eight L209 and two L215B elements per side, supported by eight C10 front fill. Four iA218 subwoofers concealed in the stage, bring up the low end. Several 12A amplifiers power the arrangement, and a QSC Q-Sys Core 110F provides system DSP.
Kloppers is exceptionally pleased with SAW's decision: 'Stage Audio Works did an amazing job with the proposal. Cost was a really big issue for us, so they proposed a new solution from Plus Audio, which matched all our criteria and worked perfectly in the space. In addition to the main hangs, we also went with some subs below the stage, which provide the bottom-end punch that we were looking for. Often, it's tough to keep the lows from being muddy, but the sound quality is very crisp and coverage across the entire auditorium is incredibly consistent.'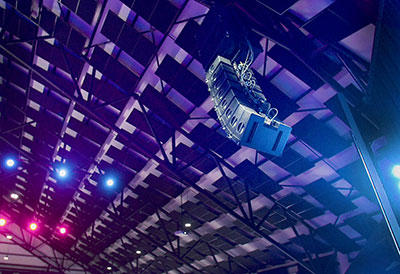 SAW also used several dB Technologies LVX loudspeakers in the lobby area to ensure coverage of the entire building. 'Even before you get into the room we've got visuals and audio that is synched with the auditorium and consistent right through,' remarks Kloppers. Control for the additional zones is handled by the Q-Sys core.
'NSC presented a unique project and acoustic space – it was not easy, but it was a worthwhile install. It's always a pleasure working with Bruce Gessner, and the NSC team were very understanding,' says SAW CTO, Nathan Ihlenfeldt. 'It was a great chance to show how competitive our new Plus Audio range of loudspeakers are – proof that quality doesn't necessarily have to come at an elevated price point, especially when backed up with our service and expertise.'
'It's not just about equipment, but the relationship with the installer,' Kloppers agrees. 'Knowing that we had 24/7 access to the SAW team was extremely reassuring. We trusted that what they proposed would be sufficient.
'We've been getting tremendous feedback from our congregation, who are really impressed with the consistent audio quality of the new system,' he adds. 'They can sit anywhere in the room and the experience is the same. Moving forward, this is going to be such a beautiful space for us to use. We're already starting to think about stage productions and other growth opportunities that we simply couldn't have envisioned before. There is no other facility like ours on the south coast, so it's wonderful to have that available for us and the wider community. We're really excited about what the future might hold.'
More: www.stageaudioworks.com