Monarchy recently re-opened its doors on Chalk Farm Road in Camden, North London, with a new name and a complete venue refurbishment including a move to a Void Acoustics loudspeaker system.
Formerly The Monarch and where Amy Winehouse was once a DJ, the venue has new ownership (AB-InBev), and a new look, but remains committed and connected to, its music heritage. Void Acoustics partnered with London based integrator AT&C Professional Systems to design and install the system.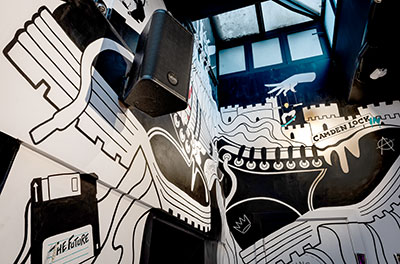 'The brief we were given was to create a venue which was the ultimate sports-viewing experience in Camden, with deference to the music heritage of the area as well,' explains AT&C Business Development Manager, Alan Smith. 'While the owners appreciate quality sound, their audio knowledge is, by their own admission, limited. And so it was great that we have been able to harness our expertise alongside a strong working relationship with the team at Void Acoustics and specify a high performance audio system which would do justice to this important venue.'
The decision to install a significant sized audio system was particularly important because AB-InBev has chosen Monarchy as a flagship pilot venue with a huge variety of application requirements, from playback music to TV sound reinforcement for sport event concepts and live music performances. So coverage and system headroom were both important factors to consider alongside the desire for a compact distributed system for the venue with sufficient performance capabilities given the very music driven nature of the location.
The extensive refurb saw the venue completely modernised, with a nod to the much loved local craft beer venue it was before pandemic lockdowns. AT&C had worked on six previous projects, including Goose Island Brewpub in Shoreditch, and so the operator was very happy when AT&C recommended Void Acoustics as a good fit for the site and its aspirations. 'It has also provided us with an excellent opportunity to specify the Venu series from Void Acoustics,' Smith says. 'It was critical to our client that the new audio installation was adaptable for a variety of different style events, whilst reliably and consistently delivering a clear, crisp audio impact for the clientele.'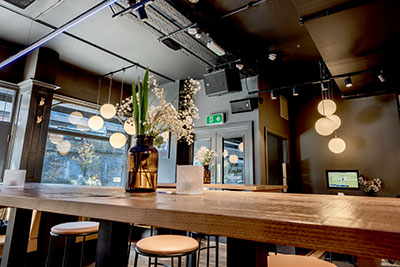 Central to the install are the Venu 6 V2 and Venu 8 V2 high-end compact speakers, able to serve any style or type of event taking place, and well suited to a high-impact bar installation of this type where coverage into all corners of the room is required. These workhorse fixtures are supported by Venu 112 V2 subwoofers, installed in a flown configuration, freeing up floorspace which is at a premium.
Monarchy also has a courtyard at the rear, where IP-55 rated Void Cyclone speakers ensure there is no noise disturbance for neighbours.
Cirrus 6.1 ceiling speakers, alongside the Bias Q2 amplifier and Bias D1 amplifier complete the Void Acoustics install. Because the client wanted to use a Dante network as the backbone for the audio, this was a perfect solution as the Bias Q2 and Bias D1 amplifiers are equipped with Dante as standard that proved useful for the integration phase of the project.
The system has been extremely well received, as Freya Clarke, Marketing Manager for AB-InBev confirms: 'AT&C really nailed our brief and the installation was completed to a high level of professionalism, and it all works flawlessly throughout the space. Monarchy is in the centre of Camden and audio is very important to the vibe of the space. Following AT&C's suggestion we opted for a higher spec Void Acoustics system and have been very impressed with the sound quality and overall performance. We hold live music events regularly and the feedback has been great.'