The Epic Sana Marquês is a new €48m five-star hotel to serve business and leisure visitors to central Lisbon. In addition to offering 379 guest rooms over 12 floors, the hotel features 18 modular meeting rooms with flexible layout possibilities, and several restaurants and bars.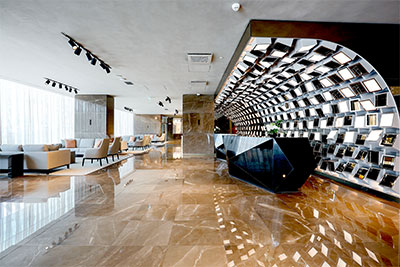 The configuration options for the meeting rooms required careful planning on the part of installer Apogeu and Allen & Heath distributor Flashbox, both members of the Lisbon-based Avitel Group. To handle the signal processing and complex routing options, an Allen & Heath dLive CDM64 MixRack was used with additional I/O via three DX012 remote output expanders, plus a single DX168 remote expander, delivering a total of 80 inputs and 76 outputs throughout the building.
'The dLive system is controlling the audio in meeting rooms across two floors of the hotel, and the movable walls mean each floor can be configured according to space and capacity requirements of each event,' explains Avitel Group Product Manager, Pedro Luis. 'It's also controlling the top floor of the hotel with a bar, disco and a spa, but the magic in using the dLive system is definitely on the floors for corporate events.'
To ensure integration with other A/V equipment used in the install, a Kramer Control system was selected for end-user control of all audiovisual elements via Android tablets, ising dLive's third-party control protocols.
'The system is designed for the customer to change the inputs and outputs based on the space is currently using for each specific event,' Luis says. 'This took quite a few hours of programming, since the dLive system is also connected to the Kramer video system that we installed, with TVs, LED walls and video projectors.
'The dLive system has ensured we met the requirement for complex configurations to be easily recalled and controlled by the hotel staff.'
More: www.avitel.pt