Specialising in sound for demanding broadcast programmes Karlsruhe-based MD Productions has equipped a specially equipped studio with monitoring from PSI Audio.
While now established in cinema sound, immersive audio formats such as Dolby Atmos, 3D sound is still uncommon the documentary sector. The opportunity offered was taken up by Michèle Dutt and the sound engineering team headed by Marco Kempf and Philipp Weiss when they established MD Productions came a year-and-a-half ago.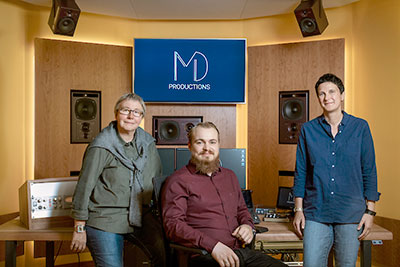 MD Productions states that it is not about exuberant special effects but emotional component: 'Sound is feeling,' Dutt says. 'You get the feeling of reality. If someone is standing on a mountain and the wind is blowing, then the viewer has to experience that as well, the whole acoustic environment.'
In order to meet these demands, MD Productions has adopted a system of PSI audio loudspeakers – an LCR configuration of A23-Ms, with A21-Ms and four A14-Ms mounted on the ceiling for side and rear surrounds respectively.
One of the criteria for their choice was the analogue design of the monitors from Switzerland. 'There is no DSP or digital technology that alters the sound,' Weiss says. 'As a result, the speakers are very linear and neutral, you can immediately hear mistakes and tell exactly when something is wrong and where the problem is.'
'The imaging of the speakers is very good,' he adds. 'The positioning of the individual voices can be easily identified.'
Dutt sees applications for immersive audio far beyond the documentary film.
More: www.psiaudio.swiss