The Waterboys current British tour saw new production supplier, Entec Live, provide an integrated sound and lighting package, including a d&b audiotechnik V series PA system, and DiGiCo and Soundcraft mixing desks.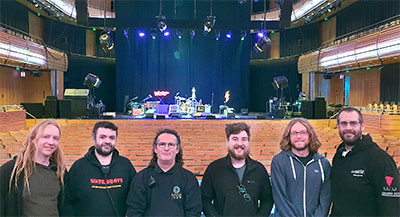 Entec Head of Sound Dan Scantlebury (previously the band's system tech) had brought the Waterboys into the fold, through his previous company, dbnAudile. 'They introduced us to the band owing to their heavy workload – and since the two companies have similar inventories it has been an easy transition,' he says. 'You generally find both L-Acoustics and d&b on tour riders, and we have the latter. In this instance, they fielded two hangs of d&b V series, with a Soundcraft Vi7000 console at FOH and DiGiCo SD12 on monitors. The major advantage is that the band has one point of contact. Whether a sound or lighting query, they can relay everything through me.'
'The other advantage of having one company with two divisions is the support,' adds Entec lighting man, Leo Tierney. 'If one department needs spares they can check in with the other, so we are not running transport all the time. Integration and cooperation become a lot easier.'
FOH Production Manager, Stu Condron agrees: 'It's our first time with Entec and it's absolutely worked well from the start. All the gear was in great shape and very well prepped.
Having old film lights is great and everything has been wonderfully straightforward when putting [production] together, even as things were changing and being tweaked. We've had separate sound and light companies in the past but having a crew where everyone knows each other, with Dan as a single point of contact on this tour, has made everything so much easier.'
More: www.enteclive.com