More than six years of design and construction, Los Angeles International Airport (LAX) has opened the US$1.6bn West Gates at Tom Bradley International Terminal. The new concourse is located in the central area of the airport, west of Tom Bradley International Terminal.
The terminal comprises 15 aircraft gates and an interior that's organised into a series of 'neighbourhoods,' each of which includes multiple gates, a restroom core and a wide variety of retail and concession spaces.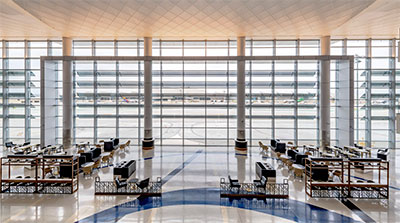 Sound in the 750,000sq-ft concourse was critical to LAX, as intelligible sound is essential to the millions of annual travellers passing through. LAX officials worked with California-based systems integrator, Direct AV, to design and install the gate announcement system for the terminal.
'This is a huge new terminal with the characteristic high ceilings, reflective glass walls, hard reflective floors, and a lot of ambient noise expected from a transportation hub,' says Jeff Barrett, System Design Engineer at Direct AV and lead point for the project. 'We needed loudspeaker technology that could give us precise beam control and a high level of speech intelligibility, while offering a discreet footprint to fit the architectural requirements and constraints; and for that, we turned to the Iconyx beam steering system from Renkus-Heinz.'
The Iconyx Gen 5 arrays provide an elegant solution to long-standing acoustical challenges with slim, attractive enclosures that blend into any environment. The system delivers unsurpassed full-frequency pattern control via Renkus-Heinz proprietary Unibeam algorithms, which is essential for delivering intelligible speech.
The Iconyx system's 4-inch low-frequency transducers and triple 1-inch high-frequency drivers produce more than enough headroom allowing for significant levels above the ambient noise floor. Specifically, the Direct AV team installed a mix of more than 30 Iconyx IC8, IC16 and IC32 arrays within the West Gates. Additional installations of the Iconyx Gen 5 arrays are also planned.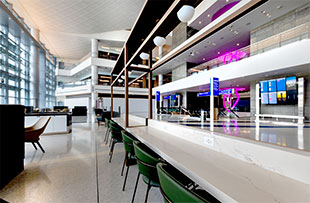 Barrett says that the system was specifically designed for terminal-wide passenger announcements and gate announcements. With fine-tuning through Renkus-Heinz software, the system covers all common areas within the terminal, including all gate seating areas and all retail, restaurant, restroom, and concession areas.
'Due to architectural constraints, the Iconyx loudspeakers had to be mounted relatively high on the adjacent walls at around 12ft above the finished floor level,' says Renkus-Heinz Western Regional Sales Manager, Garrison Parkin. 'Using conventional loudspeakers would have compromised the direct to reverberant sound, which was not an acceptable compromise – thus, the Iconyx digitally steerable loudspeakers were the perfect solution for this challenging space
'With Iconyx, we can digitally steer the sound down to the travelers giving them the direct sound element rather than reflected to the walkways– and deliver remarkable sound quality right to where the people are and away from the reflective surfaces.'
The result of this digitally steerable capability is intelligible and perfectly positioned sound solution, ensuring everyone who needs to hear the sound in the concourse, hears it with clarity.
More: www.renkus-heinz.com