Shinjuku-based rental company Paddy Field supplies audio, video and recording solutions to a wide range of small-to-medium sized performing arts productions. When company founder Ryodai Tanaka sought a compact front of house loudspeaker system to deliver high-quality sound, he alighted on Alcons Audio.
Ryodai founded Paddy Field in 2019, after ten years as a freelance sound engineer. He was introduced to Alcons Audio's pro-ribbon systems in July 2020 at a demonstration event held by Japanese distributor E'Spec Inc and was immediately impressed. 'The sound quality was excellent and, even at high volume, the high frequencies made the listening experience much more comfortable. At the same time, the bass sounded very tight,' he says.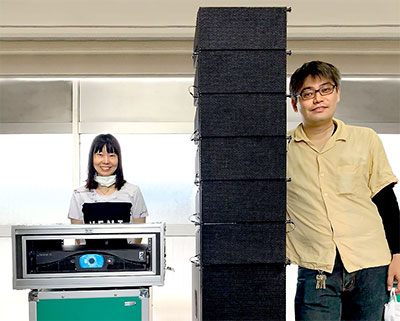 Ryodai was looking to invest in a compact line array FOH system for Paddy Field demonstrations and rentals. He tried systems from different manufacturers, but couldn't find anything he was happy with. E'Spec then arranged the loan of an Alcons LR7 micro line array system, which Ryodai deployed in a 400-capacity hall.
'Before I heard Alcons, I didn't know about pro-ribbon drivers. When I investigated the mechanism I was worried if it could withstand loud volume levels but, when I tried the LR7, any anxiety was completely dispelled,' he says. 'More than that, the bass power and treble extension were very good and I was amazed at the undistorted uniformity of the high register. I was also impressed how well it handled EQ, responding immediately to small adjustments. With the LR7, I experienced sound I was completely satisfied with.'
Ryodai subsequently invested in a system comprising eight 6.5-inch LR7/90, four 6.5-inch LR7/120 wide dispersion units, four single 12-inch LR7B bass extensions and a 4x 2.5kW Sentinel10 amplified loudspeaker controller.
'You can't imagine the amount of volume that such a physically small system produces; the output is definitely larger than the size,' he says. 'And the sound quality is excellent. It is a perfect system for rental companies like mine, who have clients with limited installation space, for example in theatres and smaller live venues.'