Inspired by the real-life history of summer camps organised by the German American Bund in support of the Third Reich during the 1930s, Bess Wohl's Camp Siegfried, performed at the West End's Old Vic theatre, tells a story of teenage passion set against a sinister backdrop of Nazi ideology.
Set in 1938, the drama focuses on two teens known only as 'Him' and 'Her' as they meet, chat and fall in love in the seemingly idyllic environment of a summer camp on Long Island. However, the camp's real aim is soon revealed as they are increasingly consumed and impassioned by fascist rhetoric.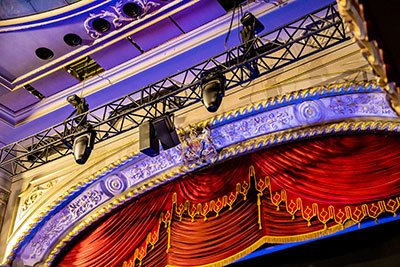 Autograph Sound was responsible for the design and implementation of the audio for this unsual production; sound designer Ian Dickinson selected the new Reference Series loudspeakers from EM Acoustics as the core of the sound system.
'I'd heard the R10s at a factory visit last year, and was immensely impressed,' he says. 'I was really keen to hear them in more than just a stereo set-up – ideally in a multi-speaker system. I'd also heard that the R8s weren't far off being ready, and knowing that the R8s would be smaller than the R10s and thus perhaps a suitable high-spec option for many of the West End's smaller playhouses, I was even more interested.
'In terms of designing shows in and around the West End, obviously the boxes have to sound great but the aesthetic is also a hugely important factor. Reference Series ticks both of those boxes, and Camp Siegfried at the Old Vic was the ideal opportunity to put them to the test.'
Dickinson specified two R10s in the stalls, two in the circle and two in the upper [Baylis] circle as the main FOH system, with two R8s as stalls fill, and a further pair as down fill/centre fill, mainly used for vocal reinforcement.
'The Old Vic is a deceptively large space and I knew the R10s would work well in there pushing that amount of air around, while being sympathetic to the building and set design,' Dickinson explains. 'We had a mixture of EM Acoustics EMS-81s and 101s as FX speakers, and this was all supplemented by EMS-51s for delays throughout.'
In total, Dickinson used 70 Reference Series and EMS Series loudspeakers throughout the theatre, all driven by EM Acoustics DQ Series amplifiers.
'I think they have a real punch and clarity to them, while not forsaking any warmth when you need it,' he says. 'The show has a mix of loud SFX and music as well as miked dialogue, and the Reference Series handled both brilliantly. Vocally we were just giving a bit of subtle reinforcement, but I think that was helped enormously by the natural sound of the boxes. A lot of the response I've had so far has suggested that it was hard to tell that the vocals were miked and of course that's the Holy Grail for any sound designer.
'Interestingly, when I first started listening to the system with my usual test tracks, I was initially a little thrown as I was hearing them in a way I wasn't quite used to, then I realised that it was because even before any EQ or tuning, a lot of the muddiness that I was used to hearing on first firing up a system just wasn't there.
'I'd love to do a musical on them as I think they'd really come into their own on something like that,' he adds. 'So far, we've had great feedback. In fact, a lot of the team I'm working with now on a different project came to see the show and later commented on the sound without knowing that I'd been the designer, so that's gratifying. Likewise, a composer friend said he'd thought the show sounded wonderful so, again, I'm happy with that.'