After last year's festival was staged 'virtually' due to the coronavirus pandemic, artists, public, vendors and production teams returned to the streets of Greenville, South Carolina, in early October for the 40th anniversary of the Fall for Greenville festival of music, food and drink. Providing the sound reinforcement, Alcons Audio pro-ribbon loudspeaker systems were used on five of the event's six stages.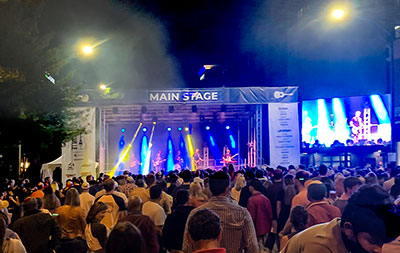 Described as 'a weekend full of flavour', Greenville's Main Street hosted 78 live acts in all, alongside tempting tastes and taps, enjoyed by an estimated 150,000 people. AVL Solutions has been the festival's main sound and lighting provider for more than 20 years and, with the company being an Alcons Ribbon Network member, owner Alan Simonton has previously used Alcons pro-ribbon systems at Fall for Greenville.
This year, the Main Stage notably featured the double 12-inch LR24 mid-size line array, being used for the first time at the festival, along with 16 LR24 plus six BC543 triple 18-inch very high-output cardioid subwoofers. Among the other stages, the QuickTrip Stage used 18 LR18 double 8-inch compact line-array modules and six double 15-inch BF362 high-output subwoofers, while the Berkshire Hathaway stage featured 12 further LR18s, with two single 18-inch LR18B compact line-array bass and four BQ211 single 21-inch compact high-output subwoofers. Eighteen LR7 6.5-inch micro line-array modules, two single 12-inch LR7B micro line-array bass and four more BQ211s were used for the Furman University Jazz & Blues stage. Finally, the Aloft Stage system featured two single 12-inch VR12 mid-size versatile monitors and two additional BF362s.
Despite heavy rain delaying the start for three of the stages on the first day, the festival ran without a hitch, with all stages seeing full audiences throughout the event.
'This is the first time we had heard the Alcons LR24s and they were freaking amazing,' says Simonton. 'They delivered great coverage over hundreds of feet with no problem. Rigging was intuitive and super easy, thanks to the PRRGL24 pre-rig transport trolley in combination with the compression-mode flying option. The BC543 cardioid subwoofers provided plenty of low-end reinforcement.
'With five stages all using Alcons pro-ribbon systems, the consistency between them was incredibly harmonious. We received lots of appreciative comments from the artists, festival attendees and city employees.'