ATK Audiotek has been acquired by Clair Global in a move that extends Clair Global's position in the worldwide sound reinforcement market and expands its reach into broadcast audio, communications, and integration. The deal is expected to be finalised in mid-November.
'From a business perspective, ATK was looking to develop a long-term, sustainable path for their employees and clients,' says ATK Partner, Mikael Stewart. 'People in our industry tend to focus on the gear, but people are really the defining asset in our business, and we want to make sure the ATK team has the best home now and into the future. We are confident that Clair Global is that home.'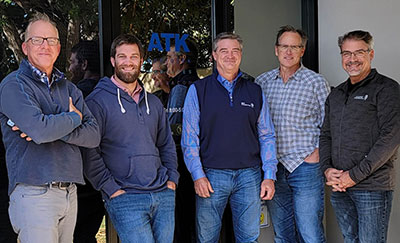 'Everyone in the industry has worked with the ATK team for years to support our clients on major broadcast events,' says Clair Global CEO, Troy Clair. ATK developed the enviable position of being in the driver's seat at huge events that span entertainment awards, sports and political events, and developed techniques to ensure that the sound provided to a live audience is flawless while maintaining the integrity of audio for broadcast. Everyone at Clair is excited to have the opportunity to work with ATK.'
An industry pioneer, Clair Global continues to expand in both size and technology development, a drive that has defined the company for more than 50 years. Established by brothers Roy and Gene Clair, it enters a third generation of Clair family management with brothers Shaun and Matt. The Clair family has provided continuity to operations, and maintained an emphasis on pushing the operational and technological comfort zone of the company.
'We are eager to expand further into the broadcast field, but there is so much more that both companies can learn from each other,' says Shaun Clair, who leads business development at Clair Global. 'When we started to look at ATK, we found that both companies had many operational and technical approaches that aligned well, but what was surprising to both teams were the unique developments that each company had to offer and how we could all benefit. The word "synergy" is often over applied, but in this case it really works.'
No major changes are planned for the operation of ATK. The management team of Michael MacDonald, Scott Harmala and Mikael Stewart will remain in place, as well as the staff, company name, and location in Valencia, California. ATK will continue to focus on the broadcast market, but the new configuration will allow greater more geographic reach. ATK's systems integration team will be aligned with Clair Global Integration, expanding the services the companies can jointly offer.