Held annually in the Parc de la Villette in Pris, the Jazz à La Villette showcases current artists ands looks back at the history of jazz, often recognising a particular year or inspiring musician. Cité de la Musique, one of two buildings comprising the Philharmonie de Paris, was a key venue for the festival, with Deputy Head of the Audio-Visual Department managed Emmanuelle Corbeau overseeing the deployment of an L-Acoustics L-ISA immersive system at the Salle des Concerts.
'I have been fascinated by sound spatialisation for as long as I can remember, but initially working as in-ear monitor engineer did not offer much opportunity to play with that technology, apart from looking into some binaural research available at the time,' she says. 'When I joined the Philharmonie de Paris in 2015 as front of house engineer, it opened up a new world of possibilities in spatialised sound for me. One day, a friend of mine, who was mixing a Bubble in 23.1 for L-Acoustics Creations Island, mentioned that it was much easier to mix with L-ISA 'because everything was so natural'. This made me want my own experience with it.'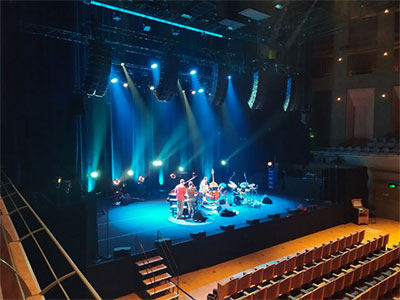 Having seen some L-ISA demos at tradeshows and exhibitions, Corbeau enrolled in a dedicated spatialised sound course with the CFPTS (Centre de Formation Professionnel de Technique de Spectacle) with L-Acoustics' Etienne Corteel teaching the L-ISA section. Corbeau then experienced her first live show in L-ISA at the Cité de la Musique in 2019, leading the entire project with support from L-Acoustics. She and the team from the Philharmonie went on to explore the full potential of L-ISA technology, attending a training session led by L-Acoustics Head of Application Projects, Arnaud Delorme.
The opportunity for Corbeau to use her training soon presented itself with this year's Jazz à La Villette. The Philharmonie has permanently installed L-Acoustics K2 and Kara systems in both its venues, allowing Corbeau to use the Kara cabinets, supplementing them with cabinets from rental and installation specialists Audiolive. Additional cabinets were used as 'spatial fills', a new feature from L-Acoustics that creates a virtual replica of the Scene System where cross-coverage cannot be physically achieved, then using algorithms for positioning audio objects, improving object separation, coverage and level consistency.
Having just one day to set up, Delorme had assisted Corbeau with the design element before the event. 'Although the training I've had meant that I was able to handle the setup myself, it was a nice feeling to know I had a safety net in case of any issues,' she says.
'The L-Acoustics team is always ready to support shows, especially with L-ISA, but to be honest my job was easy here,' says Delorme. 'Emmanuelle handled it beautifully, from design to mix, thanks to her talent and to the intuitive nature of L-ISA which makes it easy to switch from a classic stereo configuration to immersive.'
The final configuration for the oval-shaped hall comprised a main L-ISA Scene system of five hangs of eight Kara each, evenly distributed across the front of the stage, with two hangs of two A10 (one Wide, one Focus) for out fill. Spatial fills comprised eight stacks of one Kiva II, evenly spaced across the front of the stage, with six facing directly forward with the two outer Kiva II angled towards the side seating. Surround was covered by four 115XT, spaced evenly around the auditorium above the balcony level, suspended from trussing.
'I mixed two very different performances – one was a jazz quartet with a very natural sound, the other was a performance with a lot of energy, so a lot of SPL was needed,' says Corbeau. 'A major advantage for both is that object-based mixing is so much easier for the brain to process, compared to stereo, and provides a much more pleasant listening experience.'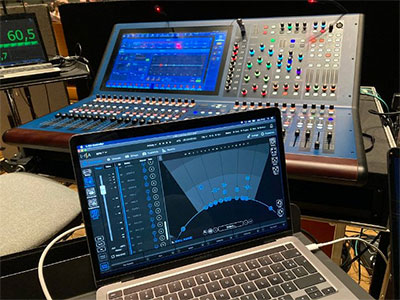 'I found the L-ISA 3D mixing environment intuitive and straightforward,' Corbeau says. 'Being fairly accustomed to the L-Acoustics workflow and tools such as Soundvision and LA Network Manager definitely helped when deploying the technology for the festival, but I also remember one of the musicians in the L-ISA course saying the L-ISA Controller was a really easy tool to use, even without previous experience or technical knowledge.'
Visiting sound engineers were pleased with how easy it was to use the L-ISA Controller and with how they could place and unmask the sources. 'One of the engineers in particular was mixing a really loud performance, which worked exceptionally well in L-ISA, as with multiple sources it's easy to go from low to high SPL without it being fatiguing for the listener,' notes Corbeau.
'One of the most beautiful things about L-ISA is that it literally envelops the person in a 3D soundscape, so you feel as if the music is not just in front of you, you're surrounded by it,' she continues. 'Both the Technical Director at Philharmonie de Paris and the Technical Manager of the venue told me that it was much easier for them to hear the nuances between different instruments, so they could go deeper into the sound layers and really appreciate the full scale of the musical performance.'
After 11 days featuring some of the most renowned and talented musicians, there is one thing that Corbeau says she will miss. 'I find it difficult going back to mixing stereo,' she admits. 'I truly think it's worth learning this new language of object-based mixing, as it's the future of sound. I hope we can repeat this amazing experience with L-ISA next year and for many years to come.'
More: www.l-acoustics.com