The new 400-capacity Rooftop Lounge Bar in the Albanian city of Vlorë, has been fitted out with a high-power Martin Audio sound system, comprising components from the BlacklineX and CDD series, supplied and installed by territorial distributor Prosound.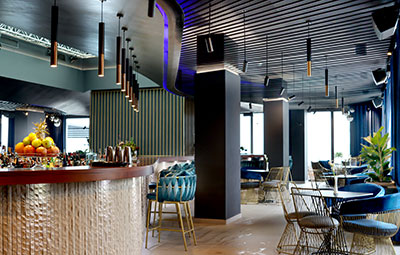 Part of the Diamond Hill Resort & Spa, the bar offers panoramic views over the surrounding countryside accompanied by a combination of house music from DJs interspersed with live bands by night, and BGM during the daytime.
Prosound had been contacted by the venue's architects to provide a solution. 'But the procurement process was similar to that of a tender since the client also received offers from other providers,' says Prosound Technical Director Endrit Veleshnja, who recommended Martin Audio and designed the system around it. 'BlacklineX series has consistently shown that it offers the ideal speaker models in situations where quality sound with moderately high SPLs is required. Another consideration was that the system needed to be affordable. As for CDD series, offering premium sound quality and weather protection, it was the perfect choice for the terrace.'
Installed inside the venue are ten Blackline X8, along with a pair of X10 and four groundstacked SX210 subwoofers. Outside on the U-shaped terrace, which folds around the indoor perimeter, are ten CDD6 and four SX110 subs, suspended from the small terrace roof.
In addition, Prosound installed the mixing console and the matrix system that divides the sound zones – also controlled by a smartphone/tablet. The company also installed the entertainment lighting system on a small stage in the middle of the indoor venue. This stage is located inside the bar and sits on a glass frame, with views down through six storeys.
'The different live bands that have performed at the venue during this summer season have provided very positive feedback about the quality of the sound system, reports Prosound CEO, Kliton Gjika.
More: https://martin-audio.com