Professor Peter Rayner, one of the founders of Cedar Audio has been honoured with a Fellowship of the Institute of Professional Sound (IPS), presented by the company's Managing Director, Gordon Reid.
'Peter's work on digital audio restoration began in 1985, long before the name Cedar was coined, but it was the results of the research carried out under his supervision that led to our first prototype audio restoration system and the eventual establishment of the company,' Reid said.
However, Rayner's history of innovations began much earlier...
The son of a garage (and later machine tools company) owner, Rayner feels that he was predestined to become an engineer. Some of his earliest toys were tools, including a junior hacksaw with which he attacked his bed. He was placed in the 'A' stream at grammar school, which meant that he had to study Latin rather than engineering drawing, so he tried to get himself transferred, but without success. He had his own lathe by the age of 15, and although he passed his O-levels at 16, he wasn't told that engineering was a university subject, so he left school for an apprenticeship at Pye, where he moved between departments every three months and attended the local technical college one day a week.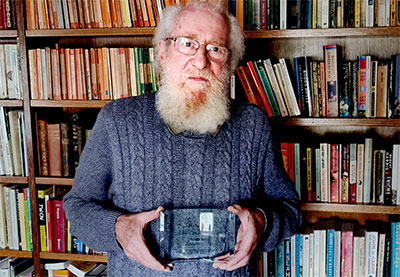 After two years, he was placed in the Pye Television audio lab, where he was taken under the wing of Gordon Edge, who would later become the Managing Director of Cambridge Consultants, PA Technology & Science Centre, and Scientific Generics, companies that underpin the Cambridge Phenomenon.
On completion of his apprenticeship, Rayner became the first employee at Cambridge Consultants, established about a year earlier. He found himself in what he describes as 'a shambolic workshop full of eccentrics, with a marvellous atmosphere'. The company was growing quickly at that time, and he was soon the head of digital electronics, employing graduates who, on paper, were more qualified than he was. He thought that it would be good to obtain a degree, so he went to see his former tutor at the technical college who suggested he jump directly to a PhD. He applied to numerous universities, and The University of Aston offered him a place. He then obtained SRC funding that, in 1968, enabled him to complete a PhD on a method of making efficient audio amplifiers.
During this period, Rayner had started to recognise the power of mathematics in engineering, and decided to move out of electronics and into communications. The University of Essex offered him a research fellowship in the fledgling field of speech recognition but no grant was forthcoming, so when a lectureship became available at Cambridge University he applied for that. By chance, the University was looking for someone in communications, and they created a junior lectureship for him. Shortly before he arrived at Cambridge in 1969, the FFT had been developed, hugely reducing the computing power needed for certain applications. Rayner was impressed, and recognised that digital signal processing was the future.
Starting out with an IBM computer that used paper tape and a teletype for input and output, he and one of his undergraduates set up what was possibly the first real-time signal processing system.
Having started with two PhD students, the Signal Processing & Communications Research Group, of which he was head, grew rapidly, and many of Rayner's PhD students were to become full professors, multi-millionaires and even one billionaire. Rayner, who became a Fellow of Christ's College and was appointed to an ad hominem Readership and then a Professorship along the way, soon became renowned for his research work in the fields of digital signal processing, optimal non-linear filtering, neural networks, and Bayesian statistics. He has since described the group as 'a statistical mathematics group trying to solve general real-world problems', and one of his greatest successes in this was the creation in 1988 of Cedar Audio. Established to reduce or even eliminate the clicks, crackle and hiss of degraded recordings, Cedar flourished and, more than 30 years later, is still preeminent in its field, with a string of awards (including an Academy Award an Emmy and two Cinema Audio Society Awards) and scientific achievements including the invention of spectral editing and near-zero latency digital dialogue noise suppression.
Today, Rayner has an active interest in hearing assistance and the development of blind source separation algorithms – technology to separate one voice from a babble or from overwhelming background noise. He says that, when this problem is solved, it will be of huge benefit to humanity (currently, there are around 700,000,000 people with hearing impairments worldwide) and that 'someone is going to make a lot of money from it'. He is currently an Emeritus Professor of Information Engineering at Cambridge University, as well as a director of Cedar Audio and an advisor to numerous other companies that emerged following the work carried out in the Signal Processing and Communications Research Group.
'I'm very grateful to the Institute of Professional Sound for recognising my work, and I really appreciate this honour,' Rayner says. 'I had no idea beforehand that I was being considered for this, and I would sincerely like to thank everyone at the Institute and at Cedar who was involved.'