From humble beginnings in an Auckland garage in 2013, Lux Productions has gained an increasingly prominent place on New Zealand's event production scene and is currently moving into its sixth warehouse. Concurrent with this expansion, the company has also decided to expand its mixing console inventory.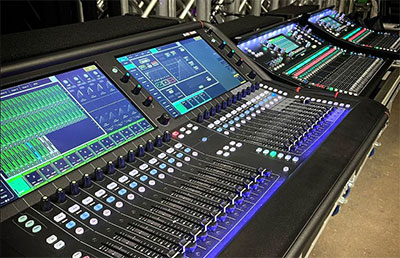 'We were in the market for a medium-to-large format audio console and adore the SQ range from Allen and Heath, so when we heard about the release of the Avantis it was a no-brainer,' explains Lux Productions owner, James Jefford. 'As we already own a range of SQ consoles and stageboxes, the fact that this console would use that infrastructure of stageboxes and digital splits was just fantastic. We added a DX Link I/O card to the Avantis to allow for multi-zone IO to our different DX168 stageboxes allowing for simple and easy cable management.'
Avantis is the third mixer built on Allen & Heath's 96kHz XCVI FPGA platform, with 64 input channels, comprehensive processing options and a fully configurable 42-bus mix architecture, all controlled via a pair of high-resolution screens.
'The interface is incredibly easy to navigate, and the dual HD touch screens were a huge selling factor for us when comparing to other brands in this price bracket,' Jefford says. 'Along with large events, Avantis is fantastic for the corporate scene – which is our bread and butter – being powerful yet compact enough. The onboard storage for audio tracks just adds another string to this console's incredible bow.'
As Lux Productions continues to grow, Jefford is continually looking to the future: 'Our next upgrade would be the GigaAce I/O card to allow for connection to other Avantis desks and stageboxes directly out of the console,' he says. 'Coupled with incredible support from the team at Jansen Pro Audio, we see this console and the rest of the Allen and Heath range becoming firm staples in the Lux Productions family of audio consoles.'