Birmingham City University (BCU) has integrated Cleanfeed into broadcast studio facilities as part of its mission to deliver industry standard practise-based learning for its students.
As with the entire industry, BCU was required to adopt remote working during the coronavirus pandemic. Committed to providing the best remote learning experience for its students, the university and Cleanfeed's browser-based tool for high-definition, live audio and recording was able to deliver far better ease-of-use and audio quality over alternative solutions such as Microsoft Teams and Zoom.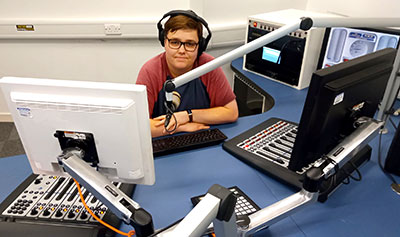 Cleanfeed was used by all students over the lockdown period on courses such as Media Production, Media and Communication, Journalism & Sound Engineering and Production, enabling students to deliver the professional recordings, broadcasts and media interviews crucial to their learning and development.
'I was directed to Cleanfeed by industry contacts and former colleagues at the BBC and quickly realised the benefits for our students who weren't able to be on campus,' says Senior Technician, Peter Crowther. 'The students liked the service so much over the lockdown learning period that we decided to run pro accounts for our final year students, who have a radio station module as part of their final submissions. The pro Cleanfeed accounts allowed them to co-present shows as though they were in the studio together.'
Cleanfeed became a regular part of the operation for studios and over the summer, as BCU installed in-house designed touchscreen units into the broadcast and radio studios. 'Our arts design and media centre is a £61m building with purpose built industry standard spaces, designed to offer state –of-the-art facilities, which are also available for commercial hire,' Crowther says. 'The Cleanfeed integration enables us to bring remote guests into our studios in superior quality and to provide them with a feed that allows them to feel like they're in the studio too.'
'Cleanfeed supported Birmingham City University students through a period that saw everyone needing to adapt and change their ways of working and more recently to be considered an integrated part of their facilities,' says Cleanfeed co-founder, Marc Bakos. 'We have been working on our academic licensing to support educational institutes and this is a fantastic example of how Cleanfeed can be used so well in this industry. We wish all the students at BCU the best of luck with their studies.'
'Using Cleanfeed during the January radio station module was truly a lifeline,' reports Media and Communication graduate, Thomas Sayers. 'It is such a versatile system which allowed us to collaborate as a team whilst in our own homes, from co-presenting to show production, Cleanfeed saved us. It integrated well with existing equipment and even allowed us to create content well beyond geographic boundaries and other similar logistical problems which may usually restrict interviews.'
More: https://cleanfeed.net