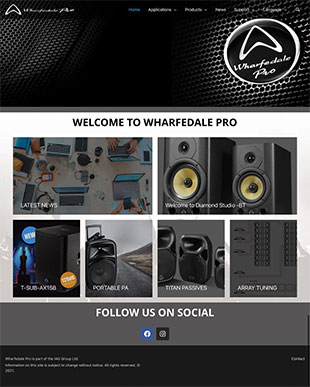 Longstanding UK loudspeaker manufacturer and pioneer Wharfedale has opened an all-new website for its professional products.
Along with details of new products, clearer information presented by product and by application, and improved visuals, the new Wharfedale Pro site includes features to make the installation and set up of Wharfedale Pro products as simple as possible, as well as a dealer listing. There is also a history of the company (which is approaching its 90th anniversary), and background on present parent company IAG.
A new Downloads section makes it simple for installers to obtain the reference files needed, and the new Bracket Finder makes finding the hardware to install Wharfedale Pro products simple.
The site supports a number of European languages, as well as Chinese, Russian and Japanese.
More: www.wharfedalepro.com