Better known for holey cheese than music output, Langnau's rolling hills provided a stunning backdrop for the first edition of the Modular Festival in Emmental, Switzerland. Organised by DJ and producer Michelle Kelly Leeman, the event was staged over four days during September, with the lowing of cattle giving way to the sounds of psytrance and techno from an international roster of more than 50 artists and DJs.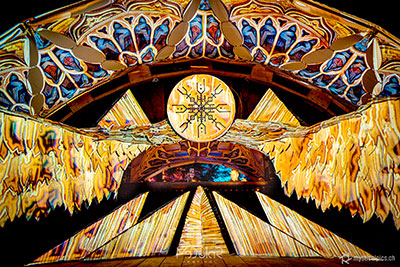 With music running non-stop across two stages, Leeman opted for KV2's flagship VHD5 system for the main stage and SL412s supplemented by SL2.15 subs for the second stage.
'It took over a year of planning, and 160 pages of information were submitted to the relevant authorities in order to obtain all the necessary permissions to go ahead,' Leeman recalls of the complications presented by the coronavirus pandemic. 'Selecting a sound system was the easy bit – I already knew I wanted KV2 and, if possible, the VHD5, but I needed to make sure it was feasible.'
Leeman contacted KV2 Technical Projects Director Andy Austin-Brown with the details of her project to see what he suggested given the size and shape of the area to be covered and the dimensions of the stage.
'VHD5 offers the absolute best quality of sound representation coupled with the highest dynamics and definition, even at lower levels, whilst carrying enormous output capability,' says Austin-Brown. 'Given the area to be covered and the anticipated audience levels, we could certainly have achieved excellent results with a range of our smaller solutions, but Michelle had already decided that excellent wasn't good enough – she wanted the absolute very best if it was possible. And that, in KV2 terms, means VHD5. While not a typical application for VHD5, there was no reason for it not to be used, so that's what we did.'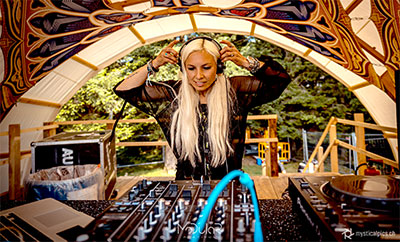 The greatest challenge was working within the 7.5m height restriction dictated by the tented roof structure in front of the stage. To combat this, the final configuration comprised a single VHD5.0 with three VHD8.10 midrange extensions per side flown as high as possible on either side of the stage.
Due to the lack of height, instead of using dedicated down fill cabinets, Austin-Brown recommended a pair of KV2 ESR215s as front fill, supplemented by a ground-stacked sub array of two VHD2.21, eight VHD4.21 Active and six VHD4.21 Passive for powerful sub bass across the entire listening space as well as high on-stage rejection.
DJ monitoring was handled by a pair of ES1.0 mid/tops, four ES2.6 double 15-inch active subs, with control and amplification provided by a pair of EPAK2500R and a SAC2 processor.
All the equipment was supplied by technical event production specialist, Piso AG based north-east of Zurich, who also provided an LR SL dance stack for the second stage comprising an SL412 top, two SL2.15 subs and a VHD2.21 sub per side. Signal management, amplification and control across all KV2 systems was handled by KV2's dedicated control and amplification units.
Johannes Kraemer, long-time sound engineer for techno legend Richie Hawtin and New York's Avant Gardner club among others, was on hand to help set up the VHD5 system.
'I couldn't be happier with how it all turned out,' Leeman says. 'The sound was simply incredible with a depth and clarity that you just don't get with other systems. We had two other festivals that showed interest in our sound system, and at least three artists who asked for KV2's details – I think that pretty much speaks for itself. We had a great turnout for the first edition of the Modular Festival, and I'm already looking forward to next year, which will be bigger and better again.'
More: www.kv2audio.com