Belgium-based A/V manufacturer, Apex Audio has appointed Tommex as its exclusive distribution partner for Poland, following Australia's ARX into the company's portfolio earlier in the year.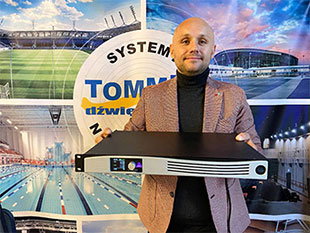 'Tommex is continuously on the lookout for innovative products to ensure our portfolio always reflects the latest technology solutions available on the market,' says Tommex Commercial Director, Marcin Zimny. 'This is why we could not miss the opportunity presented by the Apex CloudPower amplifiers.
'Our interest was attracted by their power, management and monitoring solutions, Dante network cards – the protocol on which we base most of our installations – and innovative features like the integrated audio source for direct streaming from Spotify. We are therefore very pleased and excited that Apex has put its trust in Tommex by appointing us as the brand's exclusive distributor for Poland.'
'Tommex's impressive technical and support expertise and extensive experience with high-profile installation projects, made the company our first choice to develop the Apex brand in Poland,' says Apex MD, Paul Van Hees. 'We look forward to working with the Tommex team to introduce the benefits of our new CloudPower amplifiers and the rest of the range to their clients.'
The distribution agreement was facilitated by Alain Boone of Audires, Apex's EMEA sales agent.