Better known for supplying sound systems to nightclubs around the world, a recent opportunity for Void Acoustics – installations at Kingdom of Sweets locations in Bath, Windsor, Leeds and London's high-end Knightsbridge district – represents something of a departure…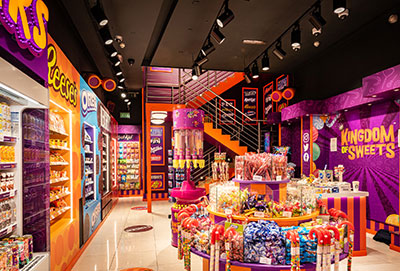 'This type of project couldn't be more polar opposite, when considering the projects Void Acoustics is well known for,' says Void Head of Sales, Mike Newman. 'It was great to have a completely different project to introduce our systems into and, actually, the key elements remain the same – with attention-to-design-detail, an exceptional audio quality and exacting installation values at the core of the project.'
With high streets returning to life, Kingdom of Sweets outlets have opened around the UK with bespoke oid Acoustics loudspeakers reflecting the vibrant orange and purple tones of the brand. 'Alongside the unique design of Void speakers, the fact the fibreglass speakers could be custom sprayed in the corporate colours was a major selling point,' Smith says.
'We had been asked to specify a sound system to up the ante on the customers' audio experience, while providing a bespoke design complementing the eye-catching and colourful presentation synonymous with all Kingdom of Sweets stores,' says AT&C Business Development Manager, Alan Smith. 'Our client specifically asked for a clean sounding, bass-heavy system, with the audio reflecting the visually flamboyant experience for customers coming in to shop for their sugary goodies. It was clear that Void were the audio manufacturer to work with.'
A series of the sleek Air 8s, supported by Venu 212 V2 bass enclosures driven by a Bias Q2 amplifier were installed into the Bath store, while in a smaller store in Berkshire saw futuristic Indigo 6s installed alongside Cirrus 6.1 ceiling loudspeakers and a smaller bass Venue 112 V2 supported by a Bias Q1 amp. In Leeds, the shop's audio system features Venu 10s and Venu 212 V2s.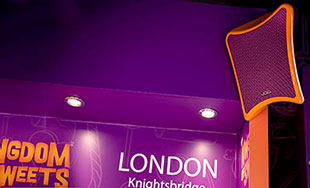 Meanwhile, the largest London store opened its two floors with a number of the Airten V3s and Air 8s alongside Venu 212 V2s to supply bass impact, finished off with amplification from a Bias Q2 and newly released WM Touch Control Panel allowing easy operation for store staff.
As a result of this successful collaboration between AT&C and the Void team, there are now further projects in the pipeline: 'I only have positive things to say about the Void range and the good-natured assistance of the team at Void,' Smith reports. 'Mike Newman has patiently supported me as I get to grips with the capabilities and potential applications of the Void speaker and amplifier ranges. We are now in the process of fitting out a sports bar with the Venu range, and a cocktail bar with the Cyclone range. So it's full steam ahead.'
'We were delighted to have partnered with AT&C on this new type of project, given the incredibly positive reaction from the client and the way the project was managed,' Newman concludes. 'I know we have started to build a great relationship with Alan and his team.'
More: www.voidacoustics.com