Taking on the site of the former Cath Kidston store in the heart of Brighton's Lanes, new lifestyle restaurant and bar, Socialite, called in Flipside Soundsystem to create 'an enticing musical atmosphere'.
The building benefits from an open layout, with cocktail bar, private dining area, a generous performance space and a casual roof terrace. With the aim of being an all-in-one bar, the space was in need of an A/V system that could sit in the background, allowing conversation to flow bur also be capable of supporting live music and DJ events.
'A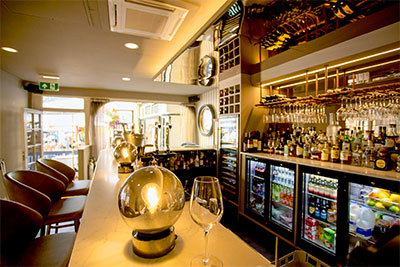 fter having a brief look around the site, working out its functionality and what the concept was – I knew, pretty much from the get-go, that musicality was the main focus of this place,' recalls Flipside MD, James Cooper. 'From then, we knew we wanted to offer good quality audio that could perform at a high level and also be used in as many zones as possible, while still leaving room for expansion.'
Socialite co-Founders Adam Elliott and Barry Vera (the team behind the Mayfair lounge and grill at The Cavendish hotel in London) had a vision for the venue to be all-encompassing – a place for guests to spend entire evenings from initial cocktails to after dinner entertainment. 'People used to go to a restaurant, have their three-course meal and then move on somewhere else for their drinks and music,' Vera explains. 'But previously, I've experienced lifestyle restaurants that are all-in-one. You're there for more than just the food, you're there for a full evening experience and I think the music is at the essence of that, whether it's in the background or at a live event, it draws people in and makes them want to stay.'
'We were pretty fortunate to come across Flipside – I felt like we were all on the same wavelength,' Elliott adds. 'We basically needed a reasonable foolproof system that we didn't need to think about upgrading for a long time, and could understand and control quite easily. We also wanted a system that could capture the music in a way that felt like you were still hearing it without being overwrought with high bass or tinny speakers.'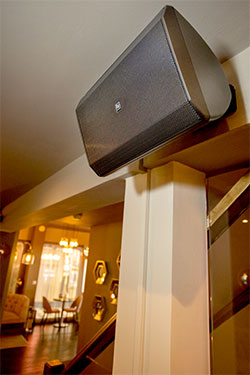 After reviewing several different design options, Flipside opted for a system based around Bosch's Dynacord and Electro-Voice brands. Relying on the Evid-S series surface-mount loudspeakers, 8-inch and 5-inch versions were wall-mounted around the venue, with a 4-inch for the downstairs bar and IP-rated versions installed in the rooftop terrace. 'The S-series speakers were the clincher of the whole set up,' Cooper says. 'They sound really good, they can go pretty loud and they're a diverse enough range to be able to go for all the different areas.'
Working towards a full Bosch solution, the restaurant also has a Dynacord MXE5 Matrix Mix Engine installed using a TPC-1 wall panel for simple control and powered by a pair of Dynacord C-series amplifiers.
'We really wanted to try the MXE5 – it's really powerful and yet really simple to understand and easy to use. There's plenty of control, lots of nice little touches woven into it and the TPC-1 is a brilliant wall panel and looks great in a higher end hospitality setting. I always find myself falling back on the Dynacord C-series amplifiers as well, they are a good value, reliable, solid, decent sounding amp.'
The remainder of the downstairs area includes Evid loudspeakers installed around the seating areas and, while a restaurant wouldn't usually require subwoofers, Flipside felt it necessary to give the DJ nights as full range as possible and installed a pair of Zx-1 subs.
'You could arguably go without subwoofers and just put a bit more bass through the 8-inch Evid speakers but, personally, I think that sounds awful and no one wants a booming box up on the wall,' Cooper says, 'By taking the bottom end out of the tops and putting it through some subs, the soundscape of the room is less intrusive and gives you more of a surround sound feeling which is a lot better for this kind of space.'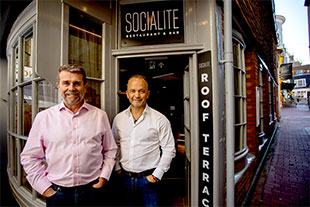 One of the main briefs for Flipside was for guests to be able to hold a conversation despite music being played all around them. For the upstairs L-shaped area, the loudspeakers needed to work among the furniture layout of banquette seating with tables placed informally. 'With the seating being along the wall, we simply decided to wall-mount everything because the sound ends up going over-head and more into the centre of the room,' Cooper says. 'I think it actually would've been trickier if there were tables in the middle in the room – this way, the music can be appreciated, and you can still be involved in a discussion.'
The final A/V set-up leaves Socialite in a position to host events both intimate and large-scale, and Cooper is satisfied the equipment will provide all-round support. 'Socialite needed something unique to them and after a few final tweaks and tests and it sounded really good,' he says. 'It's given me a lot of confidence in all of the equipment that we used – particularly with the Evid speakers. The reports back to us have been really encouraging, so much so, that we're currently quoting a new system design for another venue.'