A US$13m Miami Beach SoundScape reckons to have set a new standard for music presentation in Miami's open public spaces.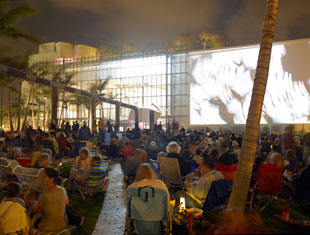 Events staged inside the 756-seat Frank Gehry-designed New World Center (NWC) can now be relayed to audiences in the adjacent 2.5-acre park using Meyer Sound Constellation acoustic technology and more than 160 self-powered loudspeakers. High-definition video images of the concert are digitally projected on a 75-ft x 100-ft exterior wall of the angular NWC structure, with the total experience dubbed a 'Wallcast.'
The Wallcast concept was initiated by the board of the New World Symphony, then incorporated into the landscape design by the park's architects, West 8 New York. Principal sound designer for both the New World Center and SoundScape was Fred Vogler of Los Angeles-based Sonitus. Engineering specifics for SoundScape audio were a collaborative effort on the part of Vogler, his associate Tim Boot, and Rod Sintow and Kelly Prince of Florida-based systems integrator Pro Sound and Video.
The Constellation system in Miami uses Meyer Sound's new D-Mitri digital audio platform and features a range of loudspeaker models that include the M'elodie line array loudspeaker, MSL-4 and UPJ-1P VariO loudspeakers, in addition to M1D-Sub subwoofers and 700-HP subwoofers.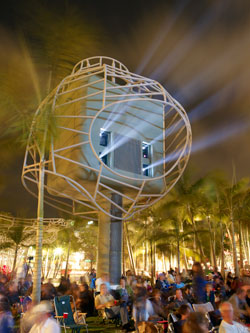 The front LCR under-screen loudspeakers and subwoofers are concealed inside large planters adjacent to the building, while dual front line arrays and associated subwoofers are placed inside 40-inch diameter steel columns. Eighty-eight loudspeakers and subwoofers are tucked into two 26-inch diameter tubular steel ballet bars, raised 20-feet high on both sides of the grassy audience area. Additional loudspeakers are concealed in the projection tower and small 'media hydrants.'
In all other installations, Constellation technology is used to provide flexibility and enhancement of existing interior acoustical spaces. Here, however, Constellation uses a minimum of 22 microphones inside the New World Center as the acoustical starting point, then applies patented VRAS processing algorithms to tailor the sound for optimum effect in the outdoor environment.
'It's been a very exciting project,' says Fred Vogler. 'We couldn't have asked for a better initial reception, but I think we've only just begun. There's a lot of adventure yet to come, with this system and others like it that are likely to follow.'
'Every orchestra in America should check out the Wallcast concerts at SoundScape, which set a new standard for the outdoor relaying of indoor musical performances,' said New York Times music critic Anthony Tommasini, reporting on Michael Tilson Thomas conducting the New World Symphony.
Speaking on behalf of the symphony, Senior VP and Chief Financial Officer David J Phillips says: 'The sound came through with crystalline and immersive clarity – it will be a tough decision now – inside or outside?'
More: www.sonitusconsulting.com
More: www.meyersound.com