Alongside its place as the financial district of Miami, the South Beach neighbourhood of Brickell is rapidly becoming a desirable residential area – with a corresponding demand for bars and restaurants emerging equally quickly. Among them, 8Street Brickell is a boutique bar owned and operated by Mark Meram with a capacity to host exclusive VIP parties and DJ sets while also providing a hangout for locals and visitors to the city.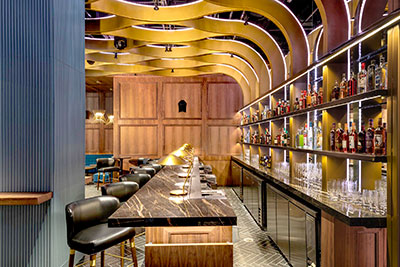 Meram's aim was to lend a sophisticated modern twist to the classic speakeasy, with its interior echoing 1920s style including wood and button tuft upholstery and a soaring and undulating ceiling enhanced with LED lighting.
The venue was designed by Callin Fortis and his team at Bigtime Design Studios as part of a new condo complex. 'From the offset, we knew this venue was going to be something special,' Callin explains. 'It was going to demand a high-level audio installation that would complement, not detract, from the overall look and feel of the bar. Because of the complex LED-mapped ceiling grid we were designing as a focal point of the bar's architecture, it was a natural fit to work with high-end integrator Paul Van Puffelen and his team at Southern Technical Support Inc in order to help us realise Mark's vision of a modern-day speakeasy.'
Meram was clear in what he wanted of the audio: 'We were looking for a versatile system that would be well received by guest DJs for special events, but would also provide reliable perimeter and distributed audio coverage for our daytime service, as well as our lounge night concept. We wanted loudspeakers that would accentuate the space and act as part of the design – basically to become a piece of art themselves. To be honest, we had Void Acoustics in mind long before we appointed our consultants.'
System design integrator Paul Van Puffelen, from Southern Technical Support Inc, worked in with audio partner Mike Harris of Harris Audio Systems to specify the installation. Together, they answered the design brief for the high-spec, sleek looking audio system. This included the installation and programming of a full Void system, with Void Acoustics signature Air Motion speakers accompanied by Air 8 and Airten V2 fixtures; the IP-55 rated Cyclone 55 for the outside patio; completed by Stasys 218 subs with Bias Q2 and Bias V9 amplifiers. All products were finished with custom pantone matte black to reflect the project look – provided by the Void production team.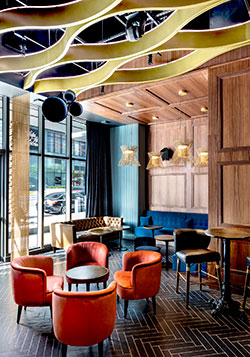 'The main challenge was specifying and installing a high-end audio installation into a brand-new venue during a pandemic,' Van Puffelen reflects. 'There were numerous delays during 2020 which, in the end, served us well as they allowed the individual trades to come in and perfect each aspect of the installation without any real time pressure. In addition – and in many ways most importantly – this allowed us time to implement a strategic acoustical treatment. We ended up with as much time as we needed to tune the room and ensure there was no negative impact to the quality of the sound system resulting from any mechanical noises, air conditioning or other structural elements.'
While the Brickell neighbourhood has a wealth of bars and restaurants leaving visitors spoilt for choice, there is nothing comparable to 8Street Brickell in the vicinity.
'My wish was to create an approachable, but entirely unique and memorable experience for anyone stepping inside 8Street Brickell. In fact, offering our customers a chance to step back in time and celebrate that moment in history where the speakeasy was the place to secretly meet, enjoy good humour and the eccentricities of the day. All that with a feel of the 2020s, not the 1920s.
'The sound system was one of the most important aspects of the space. A futuristic and quality Void Acoustics sound system helped create this intrigue and our guests' first reaction when they walk in is instantly one of awe and curiosity in the sound system.'
Meram credits the expertise and work of Southern Technical Support Inc as central to achieving his vision. 'We couldn't be happier with the look and sound of the Void Acoustics sound system. I have always been an avid fan of Void Acoustics and knew that they were the only speakers on the planet that would give us the sound quality and look we so desperately desired for the venue.'
More: www.voidacoustics.com