The first Augmented Reality production of Singapore's National Day Parade celebrations took place recently, as the Singapore Government rescheduled the annual event from its traditional 9 August date to 21 August due to an increase in Covid-19 cases.
BroaMan MUX22 fibre multiplexer and Repeat 48 3G/HD/SD-SDI Video/Madi fibre extender were provided by Total Solution Marketing (TSM), along with full service support, for the celebrations, which were deployed by The Show Company, the appointed vendor of the Multimedia Committee. The fibre-based solutions were used between transmitters and receivers, across distances averaging 250m over LC multimode fibre to three different camera locations. This enabled all data to be transported over a single-duplex fibre, reducing the number of the cables otherwise necessary over long distances, and simultaneously ensured extremely low latency in the transmission.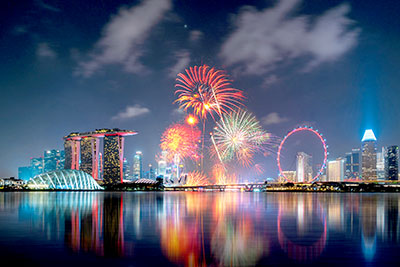 CWDM-equipped MUX22 devices, configured eight 3G/HD/SD-SDI in/output, and with RTS 4-wire intercom, were used in all Augmented Reality (AR) camera transmissions – Camera Signal Out (HD-SDI 1080p at 50Hz); Camera PGM In (HD-SDI 1080p at 50Hz); External Sync via Genlock sync generator (black burst), as well as IP addresses in the form of lens data for camera tracking and IR sensor; camera tracking data and robotic arm remote control.
The Show Company also used BroaMan's Repeat 48 as a means of signal transmission over a multicore single-mode fibre to send six channels of HD-SDI LED content feeds (three main signals and three back-up) to Mediacorp's OB truck. These signals comprised Graphical Content (in 16:9 aspect ratio); LED Program Feed (in 16:9) and Multi-Cam Production Program Mix (with subtitles).
The event itself was divided into a main parade, at the Marina Bay Floating Platform, and then the show itself – a spectacular song-and-dance extravaganza. While both the parade and show segment had to be scaled back in response to the pandemic, it provided a fitting commemoration of Singapore's independence in 1965, accompanied by an aerial display enjoyed by around 1,000 people providing the main highlight.
The Augmentation...
The televised show used visual illusion to blur the lines between reality and virtual, with Pixotope used to generate all of the AR overlays for five segments of the TV event. The AR elements conceived as part of the show's main narrative, including five stars rising up from a physical stage prop, transitioning to form a virtual display of the Singapore national flag.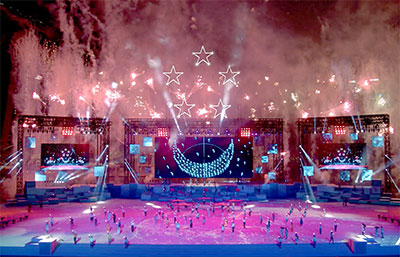 The event provided the platform for Pixotope and Anomalyst Studio's first collaboration on a large-scale live event. Anomalyst Studio's teams were in close contact with the camera director throughout the planning, and the AR elements were then sent onto MediaCorp for transmission.
To achieve visual consistency, there was a constant collaboration between Anomalyst Studio and the graphics team for the LED and floor projections. The animated elements were created in Maya before being imported into Pixotope for playback in the main show, and after the first pass of AR visuals were complete, the lighting department sampled their lighting choreography (including 360 video samples) to use as reflection maps for the AR content. The aim was for the graphics to appear 'invisibly seamless', thus designers had to ensure that the displays blended as if they were live stage elements.
While Anomalyst Studio had delivered previous on-screen graphics displays for the National Day Parade, this year's limits on physical audience attendance opened the door on using AR to elevate the on-screen display and engagement for home viewers. Other partners included The Show Company and XD Motion.
'With this technology used for the first time in this annual event, it took a while for everyone to warm to the prospect of broadcasting AR graphics for a traditionally physical mass display show,' says Pixotope VP of Global Business Development, Sam Leadsom. 'After the first few rehearsals, the potential of having additional engaging content complemented the various live components that added an entirely new dimension to the overall show's display.
'Pixotope's AR overlays were well received by both the committee and the thousands of viewers at home, and will have a high potential to become a mainstay for subsequent shows in years to come.'
Delivered in Singapore's four official languages, the National Day show was broadcast across Mediacorp's free-to-air TV channels, as well as via radio stations, its own digital streaming platform, meWatch and YouTube.