The studio room at Reach Records in Atlanta, Georgia, used by recording and mix engineer Jacob 'Biz' Morris has recently seen the addition off an Audient Nero monitor controller. 'It looks so sleek and authoritative, the perfect command centre right in the middle of my workspace,' he reports.
'Nero has everything I need, to do what I want to do. The multiple inputs are so convenient, allowing me to switch between mixes effortlessly. I love the multiple headphone outs as well. It allows me the flexibility to record in the control room where I'm at, and have multiple artists hear themselves at once.'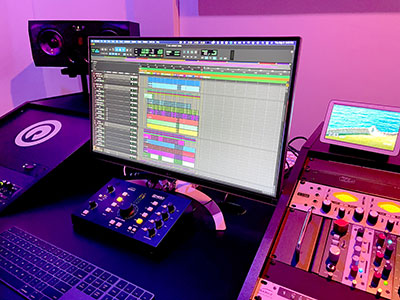 Morris' career began when he was 14 with a small set-up at his mother's house, where he and his mates would record. He was nominated for a Grammy for an album he engineered while still in school, since when accolades have continued to flood in, including two Grammy wins for his engineering of American Christian hip-hop recording artist Lecrae's song 'Messengers', and his 2012 album, Gravity.
'I just heard that I got another Gold record: Coming In Hot by Andy and Lecrae,' he says. 'That's my eighth or ninth Platinum/Gold record.'
Getting his studio monitoring in order has not come quite as easily, it seems: 'I've had history with very noisy monitor controllers, and Nero gives me absolutely no noise at all at any point when changing volume. I've also had experience of some monitor controllers changing the stereo image of the signal at low volumes, but Nero gives me the stereo signal through and through at any volume. The overall transparency in sound really helps me out.'
Appreciating the small details, he says: 'It is small, but such a nice touch – the mute and dim buttons fade upon activation. This means there's no clicking or popping when dimming or muting! You can tell the Nero is built to exacting detail and perfection. This makes all the difference to me in my studio space. As I strive to make quality records, it feels amazing to work with quality gear.'
And work is continuing apace: 'I worked on 43 songs in June,' he says. 'I just finished Andy Mineo's new album which comes out soon, and mixed the latest Shane & Shane album in Atmos.'
With the increasing demand for Dolby Atmos mixes Morris has his work cut out, yet remains ever positive. 'Seeing people's feedback to the music we make really motivates me,' he adds.
More: www.reachrecords.com