Autograph Sound has upgraded the audio equipment at Epsom College as part of a central A/V control and integration system installation, to ensure that the college remains in line with the needs of a leading UK independent school.
The college has a long-standing relationship with Autograph, and worked together with the company to design and supply an A/V solution to connect three areas of the building – Big School, the main auditorium in the building used for assembly, events and music concerts; the Main Hall, a smaller auditorium for assemblies, large meetings and parents' events; and the Chapel, a space that was previously used for services but whose use is now becoming more diverse.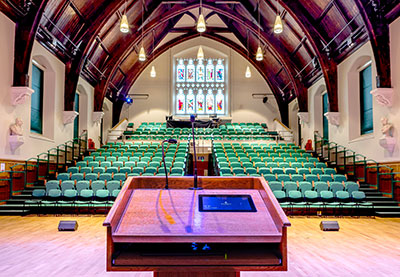 As part of the upgrade, the college had a requirement for wireless microphones, and Autograph supplied eight channels of Shure's latest SLX-D digital wireless microphone system for use in all three locations.
'Shure's SLX-D is a new product that was ideal for Epsom College,' says Autograph Projects & Installations Manager, Adam Broom. 'It offers the audio quality, multichannel capability and ease of set up [via Wireless Workbench] of the latest professional 24-bit digital transmission systems, without features that would have no use in this type of application, and at a very attractive price point.
'The rechargeable battery solution extended its attractiveness even further, using the SB903 lithium ion batteries and chargers that add to the reliability and user experience, removing the frustration of hunting for batteries. SLX-D was a very natural choice for this project.'
'The features of SLX-D make it a perfect choice for education and a site like Epsom college,' adds Shure Pro Audio Director, Stuart Moots. 'The remote monitoring of SLX-D across different locations makes for a system, which once deployed, will offer high quality RF and Audio for years to come. With the addition of the SB903 rechargeable batteries, it is an even more cost effective solution.'
More: www.shure.com