Established in 1995 the German Cultural Centre Kulturhaus Karlstorbahnhof excompasses a 600-seat concert hall and Klub K nightclub, as well as space for its culture cafe, a free theatre, Eine-Welt-Zentrum (One World Centre), media forum and communal cinema.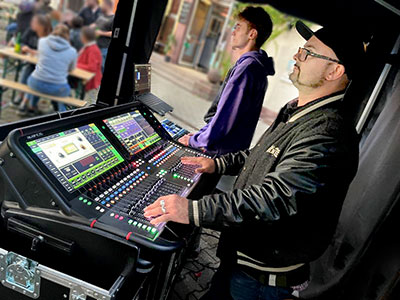 Originally located on the eastern edge of Heidelberg's Old Town, in 2017, the decision was made to relocate and open in late 2022 on the site of the former Campbell Barracks in Heidelberg's Südstadt.
During the relocation planning phase, the city of Heidelberg granted funds for technical modernisation of the building, with money allocated for an audio mixing system. Christoph Hack, Technical Director of the Karlstorbahnhof, opted for an Allen & Heath Avantis console and a GX4816 audio expander, which will be used for the outdoor summer stage and the hall, while the venue is still in operation. 'I've been enthusiastic about Allen & Heath since my first encounter with the SQ-6, so it was clear that we would rely on their consoles from now on,' he explains.
Östringen-based Session Pro supplied and installed the system. 'After the move, the FOH console will be an Allen & Heath dLive S3000 console,' Hack says. 'The Avantis will then be used as a monitor console and mobile desk for the foyer. A DM32 MixRack will be permanently installed in the technical room. Four DX168 expanders will be on stage, two DX164-W expanders will be fixed to the front of the stage, and all connected to the DM32 via a DX Hub.'
Using Dante expansion cards in both consoles, Hack will provide a digital split between FOH and monitors, distribute signals around the building and offer multitrack recording. The theatre will be equipped with an Allen & Heath SQ-5 in the new hall, and here too a Dante expansion card will distribute signals to the other venues in the house. 'We can also draw further added value from the Dante cards, as we can integrate our Wireless Systems directly into the dLive system and monitor them there,' Hack concludes.
More: www.allen-heath.com