Part of the Radio Africa Group, Kenya's Classic105 streaming radio station has adopted Lawo touch-based Virtual Radio technology with the installation of a crystalClear mixing set-up. This installation follows another recent installation of Lawo virtual mixing solutions at a Radio Africa sister station, underscoring the group's plan for transitioning to modern IP-based production infrastructure.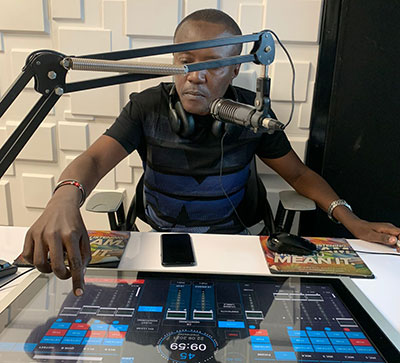 The Classic105 Morning Show with Maina Kagemi and comedian Churchill as Mwalimu King'ang'i has become a cult favourite among the station's listeners. It delivers a perky programme often highlighting controversial topics, and is particularly popular among women, who are encouraged to call and discuss peculiar relationship stories – battling their way through the topics in a mix of Swahili and English. The drive show is hosted by another big voice in Kenyan radio airwaves, Cess Mutungi, also known as 'Queen of Radio', captivating her with her deep, husky voice and individual sense of humour.
Nairobi-based Radio Africa Group is one of Kenya's most dynamic media companies, with a portfolio of radio and television stations, websites and print newspapers. Recently, a Lawo Rǝlay PC-based virtual mixing system was installed at sister station Kiss100 FM, proving so successful that they returned to Lawo to equip Classic105 as well.
Classic105 chose Lawo's crystalClear mixing soution, which employs VisTool Virtual Radio Studio Builder software for fingertip touchscreen mixing. The graphical 'virtual mixer' interface controls Lawo's Compact Engine, a compact 1U-high mixing engine with AoIP interfaces and DSP audio processing – the first installation of its kind in East Africa. The touchscreen-operated 12-fader radio console was installed by Lawo distributor and systems integrator BYCE Broadcast, who worked closely with Classic105 and Lawo to meet the customer's specific requirements.
'We are happy with Lawo virtual consoles', says Radio Africa Group Technical Manager, Philip Keter. 'We have had Kiss100 FM using Lawo Rǝlay mixing for more than one year now, and we have not experienced any downtime. We are even more excited about crystalClear; the presenters love its robustness, flexibility, and agility. It is not only easy to operate but actually helps enhance creativity.'