Designed as a hub for 'like-minded genre-bending musicians and artists', Brooklyn's ShapeShifter Lab is a performance space for art and music events, co-founded by bassist Matt Garrison (Herbie Hancock, Joe Zawinul, John McLaughlin, Chaka Khan, Joni Mitchell) and Fortuna Sung, The venue recently expanded its activities to new spaces and projects with Allen & Heath's SQ-5 and SQ-6 mixers at the centre of the production.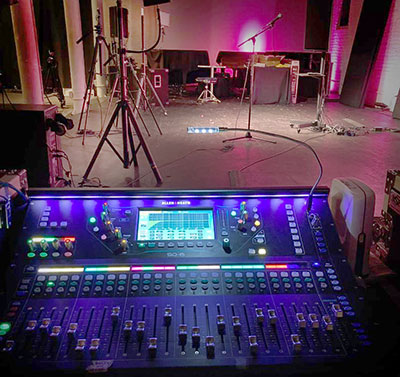 A recent special event was held in New York supported by Apple Inc's Racial Equity and Justice Initiative (REJI) and the Entrepreneur Camp programs, which served up a live stream in support of a new interactive iOS app (aptly called Matt Garrison). The app contains a living and evolving archive of Garrison's creative works including past albums, audio and video content, music charts and scores, lessons and live streams all in one place that will be continuously updated as new content is developed.
'We are excited to push the boundaries of what a performance space and creative community can be through the launch of the iOS app,' Garrison says. 'We've been presenting live streams and tackling video and audio capture at our current primary physical venue, but this latest event was done in conjunction with Apple as it involved launching the app we developed. Even with the additional audio needs and the high visibility that Apple brought into the mix, we knew that SQ was the way to go.'
The A&H SQ Series provides 48 full processing channels at 96kHz while keeping latency to the <0.7ms range. Its XCVI FPGA processing core also allows every input to support HPF filtering, a gate with side-chain and filter options, 4-band parametric EQ, and peak/RMS compression for control and shaping of levels and transients. Mixes have both a parametric and 28-band graphic EQ, along with compressor as standard – necessities when dealing with the complexities of streaming audio.
Featuring artists Ravi Coltrane on tenor sax (Elvin Jones, Jack DeJohnette, Terence Blanchard), Marcus Gilmore on drums (Chick Corea, Gonzalo Rubalcaba, Disney's 'Soul') and Garrison on bass and electronics, the app launch event included a live performance presentation and marked the release of Garrison's new album Generations, and relied on SQ to deliver on multiple fronts.
'The power of SQ is just insane,' Garrison says. 'Not only were we able to make the physical space and the monitor mixes sound great, but we could capture great audio and push out a dedicated stream mix that was truly studio quality. We've used other compact digital mixers in the past, but this was an entirely different level of sonic purity and control and flexibility.
'And somehow SQ is still fast and easy to navigate and configure. We dialled in a great mix quickly and could step back and focus on making great music. With the help of our friends from Apple, Allen & Heath, Fodera Guitars, Epifani Custom Sound Systems and Keith McMillen Instruments, the event was a huge success.'
With the technical production for the Matt Garrison app launch event wrapped, Garrison followed up with a live big band recording a few days later.
'We recorded the Afro Latin Jazz Orchestra,' says ShapeShifter Lab co-founder Sung. 'We commissioned the band to play arrangements of Matt's compositions, featuring the arranging skills of Winnie Dahlgren. That was a total of 20 band members – all first-call NYC and Los Angeles musicians – and we used both our house SQ-6 and an additional daisy-chained SQ-5 to cover all the inputs of this expanded group. The main audio engineers on both events, Miles Bentley, Astrid Asmundsson, Caroline Olbert and Jason Llaguno, had nothing but positive feedback about the desks. No matter what we threw their way, SQ delivered.'