Staged in the eleant courtyard of the Palazzo Farnese in Piacenza, this year's Notte d'Opera a Palazzo was a stirring rendition of Puccini's Tosca that exploited the natural acoustics of the 16th century architecture and immersive processing from of Out Board's TiMax. Complementing the spatial amplification and to ensure audience immersion, virtual scenography was video-mapped onto the façade of the building.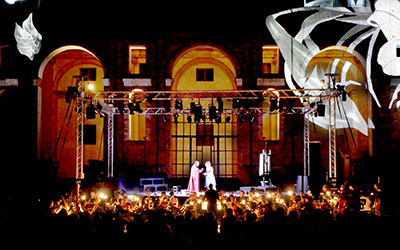 TiMax afficionado, Federico Bianchi, designed the multichannel d&b audiotechnik sound system, drove the TiMax SoundHub processor and mixed the show on a DiGiCo console.
With social distancing ensuring a Covid-safe environment for performers, musicians and audience, positioning of the distributed loudspeaker system was challenged by an unconventional stage set-up. This led to comparatively irregular speaker positions that TiMax, nevertheless, stitched together into a seamless, object-based soundfield.
While Bianchi concedes that covering the wide audience area was the greatest difficulty, the on-stage spacing was also challenging to the sound design. A 55-piece orchestra was positioned in front of the opera performers on the main stage, with a large choir was positioned to the side.
'The non-traditional, wide spacing of the three musical sources forced me to find solutions to keep each element blended and in perfect timing each other,' Bianchi says. 'It would have been impossible without TiMax to guarantee localisation and intelligibility for everyone in the venue.'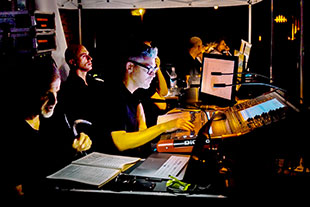 The on-site set up took no time at all thanks to the TiMax PanSpace automatic Calculate feature. Bianchi was able to pre-design the system offline, plotting the speaker system topology and locations in PanSpace, then rendering the stage and surround spatial mappings at the push of a button. 'In a few seconds on-site, I found myself with an already excellent setup before I'd even started soundcheck.'
The main system comprised five d&b audiotechnik point-source loudspeakers placed to cover the width of the stage, assisted by five front fill boxes and four sub-bass units. Three delay loudspeakers provided supporting spatial reinforcement for the last rows. A further four anchor speakers were added to the front stage truss between the opera singers on the main stage and the orchestra to augment the on-stage voices and their precise localisation. To subtly enhance the immersive mix as well as to create spatial reverb, eight surrounds were positioned at the sides and rear of the audience.
It is notable that the use of amplification was originally resisted by the producers for fear of it creating an unnatural-sounding performance, but ultimately the authentic and transparent localisation and immersion created by Bianchi's TiMax spatial mix met with everyone's full approval.
See also:
Verdi's Requiem: live and immersively streamed