The Saints Hoan-Thien Catholic Centre in Keysborough, in Victoria, sits in four hectares of land owned by Melbourne's Vietnamese Catholic community, and has seen many milestones for the local Catholic populace, including festivals, congresses, and celebrations. Across from the cardinal building lies the Our Lady Of La Vang shrine, a newly completed house of worship that has been a long-term labour of love for the fellowship.
Within the bright expanse of the shrine, the s crisp white ceiling dominates the architecture. Hanging cleanly from either side of the far end, sit two compact RCF line arrays. Looking almost transparent in their matte white finish, the HDL 6-A modules blend into the supernal scene.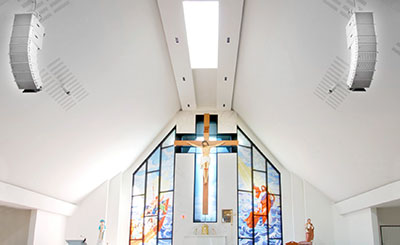 Supplied by Factory Sound in Melbourne, and recently set up by installer UB Group, the system provides FOH coverage for voice reinforcement, music playback and occasional live instrument reinforcement for the venue's regular services.
'Based on their audio requirements and budget, the HDL 6-A system was easily the best option,' explains UB Group Director, Bang Le. 'We needed something with a low visual profile and something that we could count on to deliver great sound throughout regular use. The HDL series looks good with the architecture here, and has a fantastic siz- to-power ratio.'
RCF's HDL 6-A system is an ultra-compact line array series designed for long-term performance, with its combination of low-profile aesthetics and full-range, high-quality audio reproduction making it a go-to system for many installers.
Both the left and right arrays at the shrine feature six HDL 6-A modules, each individually capable of 131dB max SPL, as well as two HDL 12-AS active flyable subwoofers. The HDL 12-AS are companion sub modules to the HDL 6-A, housing a 12-inch woofer and bringing the overall frequency response of the system down to 40Hz.
'The primary function of the system will be sound reinforcement for speech and some live music- especially things like Christmas carols and special events where the space may get filled more than usual- situations where a little more power will be required,' says Bang. 'I have been working with RCF equipment for years and I have confidence in the output and reliability of the brand.'
For one of Australia's largest migrant communities, the Our Lady of La Vang Shrine has seen three Melbourne archbishops and been the work of generations of Vietnamese families. The addition of the RCF system helps elevate the space from impressive to divine.