Luis Ángel Rodríguez's latest business adventure is a fusion old and modern psychedelic worlds of which it is likely Stanley Kubrick would approve – Shock Bilbao Club opened its doors in 2021 in downtown Bilbao, setting an installation of RCF TT+ Series louspeakers against shades of bubblegum pink, fluorine blue and hues of purple
If the coronavirus forced nightclub owners to reinvent themselves, Rodríguez – founder of the MoMa Bilbao Club – has marked a 'before and after' of the pandemic. Shock Bilbao is a place for all audiences and ages, open from the morning until midnight for food, drinks and especially good music.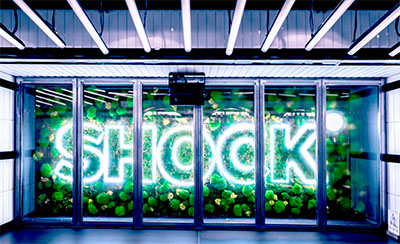 In the early hours visitors take a coffee with a typical 'pintxo' and, from midday to late evening, a gourmet hamburger with nachos or salad while you watching soccer on an 8m-wide LED screen. When the night falls, a DJ entertains the crowd that will dance under a 25m video ceiling running shocking lighting designs.
Since his first conversation with Sonort Audiovisual, supplier the systems, Luis Angel Rodriguez asked for the best sound quality for his club. 'Looking for clarity, uniformity and sweetness, the only choice for us was RCF TT+ Series,' says Ricardo Carus, founding partner of Sonort Audiovisual. 'We choose four TT 10-A boxes for the dance floor combined with an HDL 12-AS subwoofer giving power and range to the zone. For the bar zone and the restaurant area, we installed TT 052-A speakers with a second HDL12-AS sub, getting total coherence and equal timbral in the whole space.'For processing and management of all the speaker systems, the MZ8060 was the perfect tool – using two independent outputs for the subs and the other four for the different zones, we aligned the system in the correct way.
'RCF's RDNet management software, connected via a Control 8 RDNet master unit, was also used for individual speaker configuration. TS-9918 remote control allows the crew to control different volumes during the day or giving the power to the DJ at night just with the push of one button.'
After few months of activity, feedback from customers, crew and owner is unequivocal: 'RCF systems are always the best choice when you search for a shocking sound performance,' Carus confirms.
More: www.rcf.it