Owned by Big Boi of hip-hop legends Outkast, Stankonia Recording Studio in Atlanta, Georgia, has installed a BassBoss loudspeaker system in its live room. Decked out in royal purple to match the Stankonia brand, two BassBoss AT212-3K two-way active tops and three VS21 21-inch active subwoofers have made their home at the midtown studio during summer.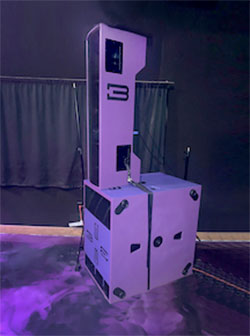 The studio was the birthplace of Outkast's 2000 quadruple platinum album that carries its name, and continues to host star talent recording and performance. The addition of BassBoss loudspeakers is intended to enhances its live performance experience.
First contact with BassBoss came through a demonstration in Atlanta coordinated by 'Big Lou' Mitcham of Big Unlimited consulting firm: 'After that, I was in love with the sound and how the speakers hit. It made all the sense in the world to have the BassBoss sound at Stankonia,' says Shelton 'Renegade' Olive, Studio Manager at Stankonia, who spearheaded the installation.
'We're making records and we're thinking about bass,' he adds. 'BassBoss speakers are unmatched when it comes to live sound, and I stand on it.'
The studio hosts regular events in the Atlanta area, hosting the Coalition DJs New Music Mondays and other hip-hop experiences. As a hub for Atlanta funk, hip-hop and soul, the AT212 and VS21 Rum Punch combo is an asset when playing back live tracks.
More: www.BassBoss.com