Located in the late-night Ukraine tourist mecca of Odessa, the stylish Opera Café takes its name from the world-renowned Odessa Opera and Ballet Theatre and its sound system from QSC.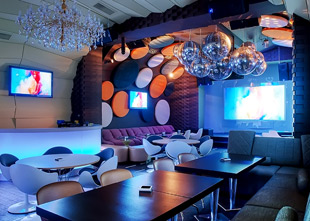 The former private members club and restaurant inside Odessa's elite Arcadia Plaza hotel has been restored and repositioned as an 'elite' karaoke restaurant. The venue is divided into four zones – the main karaoke hall, two VIP rooms and a dancefloor.
Real Music – QSC's Ukraine distributor – submitted the winning technical solution, meeting the clients' request for a QSC sound system, which was preferred to other brands they had experienced. The company installed four QSC lightweight, portable active K8 8-inch, full-range speakers and a dual 12-inch KSub in the VIP1 suite. Out in the Café's main hall, ten QSC HPRi22i 12-inch multipurpose active loudspeakers have been used, along with four HPR181i 18-inch subwoofers. These were specified to meet the technical requirements of the facility.
A pre-existing sound reinforcement system, which survived the renovation, is now powered by a new QSC RMX 850 amplifier.
According to Real Music's Vladimir Golovan, the design manages to combine aesthetics with the architectural acoustic requirements: 'The customer is 100 per cent satisfied with the new system,' he says. 'Today, there is no comparable club in Ukraine, and it is full all year round – despite the seasonal appeal of the city. There have already been many cases of charter flights from Kiev, Moscow and other cities to visit the Opera Café.'
More: www.qscaudio.com