The return of the Glimmerglass Festival in Cooperstown, NY, saw Sound Designer Andrew Harper call on Masque Sound to provide a custom audio package for the summer opera and musical theatre festival.
Harper faced the obstacles shared across the sound industry as a result of coronavirus pandemic concerns: 'Normally all productions are done inside at the opera house where there is no amplification at all. 'This year, the producers created an outdoor stage on the lawn, with the singers and audience outside but the orchestra inside. I was tasked with combining the two worlds of the singers and the orchestra, while also creating a great experience for the audience outdoors, all while keeping everyone socially distanced.'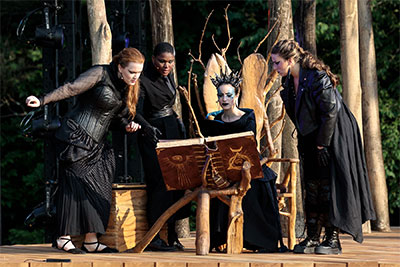 Having had worked with Masque Sound previously, Harper's confidence was high: 'I called Scott Kalata very early on in the process, and he was unbelievably helpful in tracking down all of the equipment on our list. I needed to make sure all the equipment was weatherised and dependable. Most importantly, I needed it to sound amazing and Masque Sound made that happen.'
Central to the production, Masque Sound provided 32 Meyer Sound Leopard line arrays: 'The stage set-up was not a completely symmetrical system,' says Harper. 'As a result, I wanted something that had great imaging, punch, clarity and power. Since the orchestra was located inside and amplified, I needed to be able to reproduce them in a very musical manner along with the opera singers. With Glimmerglass, each show has a completely different audio requirement, from purely classical opera to a New Orleans-inspired jazz band to traditional Broadway. The Leopards allowed me to create a unique experience for each of those productions.'
The mic package comprised Point Source Audio's new GO2-8WD Dual Element Headset mics for the singers while the ensemble was equipped with CO-8WD headset mics. 'The microphones sound absolutely phenomenal,' Harper reports. 'We were able to place them exactly where we needed to get a really pure sound from each singer. We have even performed in torrential downpours, and they were great.'
The orchestra, meanwhile, featured a mix of Schoeps, DPA and Shure microphones: 'We went with more of a recording set-up than a traditional musical theatre pit because the musicians were socially distanced on stage. I hung a Decca Tree array of Schoeps MK 5s with a DPA 4011 cardioid as the centre mic – all supplied by Masque Sound. I also placed a series of spot mics around the space to provide some details that changed depending on the layout of that particular show.'
Masque Sound also supplied a Yamaha Rivage PM7 mixing console with two RPio622 I/O racks.
This year's festival also called for specialised equipment that Masque was able to provide: 'This included extra-long cable lengths for bundles and fibre runs, as well as RF-to-fibre converters and a tower truss for one of the Meyer Leopard arrays,' Harper clarifies.
'It was a privilege to re-boot and re-start with someone as experienced and friendly as Andrew Harper,' says Masque Sound Director of Sales, Scott Kalata. 'Even though it's not quite business as usual, Andrew was able to make this complex event unfold like magic and we're grateful to be a part of it.'
More: www.masquesound.com