A cultural organisation 'melding together art and technology', PASE Platform is located in thetightly-knit Cannaregio district of Venice, where it aims to help revive the medieval city's influential and entrepreneurial spirit – with d&b Soundscape as part of its armoury.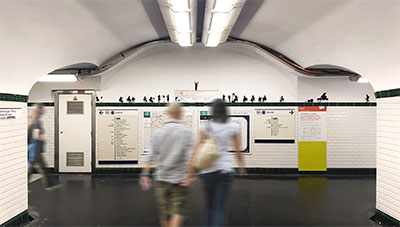 PASE is rooted in the local contemporary arts scene, as well as Europe's wider creative community. Harnessing the collaborative power of artists, designers, technicians and researchers the PASE team have set out to uncover and create experiences from new creative languages and technologies.
For co-founders and directors, Victor Nebbiolo di Castri and Valeria Zane, being at the avant-garde of creative production is a social and artistic obligation. 'Recent developments in immersive listening and spatial sound diffusion confirm we must take these advancements into account,'Zane explains. 'For creators and the public, we want to support new projects by exploring space and sound in an innovative way. To provide the technology that will take us into a new digital golden age.'
Among PASE's former residents is Robert Henke, renowned digital music pioneer and performance artist. Before the world premiere of his album, Dust at Palazzo Grassi in 2019, Henke spent a week preparing at PASE Platform, 'A very special situation,' he says. 'The d&b Soundscape system allowed me to dive really deeply into the details – of the placement of sound sources. For me, it's just far more rewarding to listen to a complex sound field that is all around me than to listen to a stereo configuration.'
More recently, PASE's collaboration with the (the Parisian company for public transport) has resulted in a sonic representation of the city's famous performing arts venue. An audio project that would ultimately become a headphone experience for travellers passing through the nearby Opéra metro station.
'I went to Paris to record behind the scenes sounds of the opera,' explains Nebbiolo di Castri. 'The idea was to create atmospheric recordings that give your everyday commuter unexpected insight into this huge operation that is the opera. Naturally, people tend to associate opera primarily with operatic music but there is so much more going on - like costume creation, set building, even the maintenance of this beautiful building. All these activities create sounds. And it's those we wanted to capture.'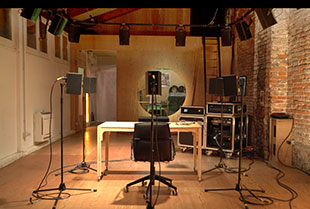 He returned to Italy with myriad sound snippets from all corners of the opera; back at PASE Platform he set about laying them out in the room. The recordings were then played back and re-recorded via a centrally fixed microphone, enabling the PASE team to create depth and movement for this compelling headset journey.
'We created a double layer for the recording,' he explains. 'We used the main Soundscape ring and then placed six loudspeakers really close around the recording microphone to create depth. Soundscape was really great as, by having the speakers around you, you are able to form a sonic landscape. By recording in the ring it's almost like creating pictures and then layering the picture on top of each other to achieve the end result. It's fascinating and highly effective.'
As well as using Soundscape for the arrangement of pre-recorded material, PASE also recorded live instruments and voices in the studio, relying on the spatial arrangement of the system to recreate the desired dimension of the final sonic output.
'We also used the same setup and speaker placement to record a flute and opera singer in the studio, to enrich the produced sequences and link them to the fundamentals of opera: classical music and beautiful voices. Using the exact same speaker setup and Soundscape, these recordings merged beautifully into the existing material.'
BetweenHenke and the Paris Metro project, PASE has been busy demonstrating the breadth of creative possibility that Soundscape offers, now and for the future.Nebbiolo di Castri is confident in Soundscape's capabilities and contribution to cultural forms. 'I see it like this,' he says. 'Soundscape is not a sound system, it's an instrument. It drives the way you think about sound and enables you to 'conduct' your recordings, like conducting an orchestra.'
For both Henke and Nebbiolo di Castri, PASE isalso a quest to bring truth and beauty closer through live improvisation, or recordings of reality. 'There must be some beauty, however you define it,' concludes Henke on his time in Venice. 'There must be intricate detail. There must be a moment of being overwhelmed.'
More: www.dbaudio.com