Set in the African bush near the Namibia capital of Windhoek, The Midgard Country Estate recently called in Stage Audio Works (SAW) to update its audiovisual infrastructure. SAW's Namibian office obliged with A/V design and integration, and a turnkey Audac-based distributed audio system for the restaurant and bar area.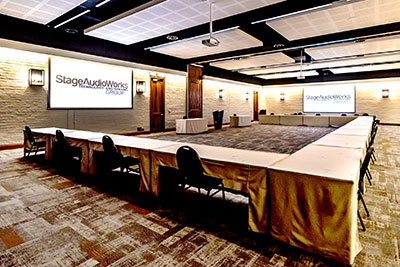 Described as 'a paradise where the earth rises again, fertile and green', The Midgard Country Estate offers 46 newly decorated bedrooms, a bar, two swimming pools and a host of other leisure facilities – tempting those on a family retreat, and offering a venue for a meeting, conference, team-building event or wedding.
SAW Namibia have been involved with the Midgard Estate since 2020 when first called in to update the A/V systems in Midgard's conference venues.
'We focused on upgrading the estate's four conference venues, providing audiovisual equipment that ensures a seamless conferencing experience for guests,' recalls SAW Namibia MD, Joppie Maritz. 'We implemented projectors, motorised screens, discreet ceiling speakers and offered the ability to adapt the environment with advanced audio processing combined with lighting and room control plus video conferencing capacity.'
A second phase dealt with installing the distributed audio system, and a third, which commences later this month, sees the integration of a smaller Audac system for the wellness centre.
The brief for the second phase was to design and install a multi-zone, distributed audio system with level control and independent source selection for each zone. The installation was to be discreet and match the aesthetic of the venue, as well as being scalable for future upgrades.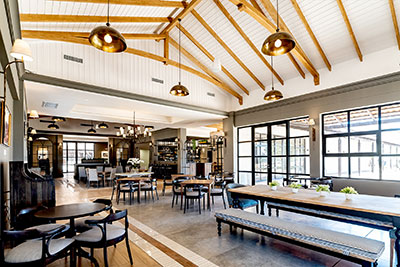 SAW Namibia specified and provided an Audac-based solution to meet all of these requirements. At the centre of the integration, an Audac MTX88 matrix distributes audio to up to eight zones. This can be controlled by an accessible web-based interface, mobile app or via external control panels. For ease of use, SAW installed Audac's MWX45 and MWX65 wallpanels across the restaurant, lounge and bar areas, enabling remote source selection and volume control and, in the case of the MWX65, local audio input as well.
A modular Audac XMP44 audio interface allows flexibility, offering four SourceCon slots for different audio source modules. In this case the client can simultaneously select inputs from either USB audio, internet audio stream, an FM tuner or DStv (African direct broadcast satellite service) audio input. A Radial Engineering WallDI box handles the DStv audio input from the bar area.
'From previous experience with using Audac products during other projects, we know their range to be reliable, as well as affordable,' Maritz says. 'We were confident we could design an end-to-end Audac solution which delivers at a very competitive price point. For a company like O&L, who treasure the user experience, going with a versatile, easily operable Audac solution was a no-brainer.'
For audio playback, SAW provided multiple Alti 6 Pendant loudspeakers for the high ceilings and open space in the public areas. Unobtrusive Cira8 ceiling loudspeakers were used in areas with lower ceilings, where a more discreet approach was required. To power the system, SAW integrated a number of Audac Quad-channel 100V amplifiers combined with Com108 where lower output capacity was required.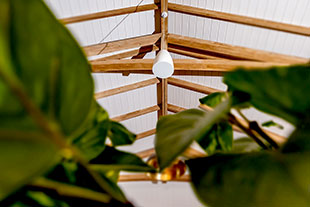 'It's been a great experience working with O&L Leisure on the Midgard project,' Maritz reflects. 'They have a clear idea of what they want the customer experience to be – creating a venue that caters to all kinds of use cases and events. We were pleased to provide the technical expertise required to materialise their vision.'
'SAW Namibia is customer and solution-orientated, and no problem is ever too big or too small to solve,' adds Lientjie Jansen van Rensberg of O&L Leisure. 'Thank you to Joppie and his team for the commitment and the support during this project and a number of other projects throughout the O&L Group.'
More: www.stageaudioworks.com