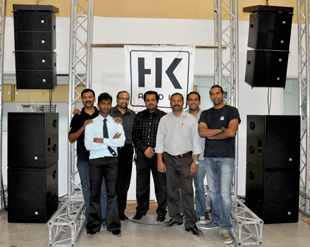 Dubai rental company Abacus Rentals has taken an HK Audio ConTour Array loudspeaker system from local agent Melody House.
Abacus decided on the purchase after a demonstration that highlighted the power, flexibility and clarity of the system from the German company. 'Abacus Rentals is a growing rental firm and this latest purchase will take them to new heights,' says Dino Drimakis, Business Development Manager at Melody House. 'With this – the second ConTour Array system in the UAE – HK Audio is building a strong reputation in the live sound market here.'
The ConTour Array bridges the gap between conventional PA systems and large touring line arrays. Where line array rigs were not a cost-effective proposition for smaller applications, this system is the first of its kind to put this technology to efficient use for a variety of sound reinforcement situations.
More: www.melodyhouse.ae