Christchurch's Electric Avenue Festival retained its status as one of New Zealand's largest outdoor summer music events with a record attendance of 25,000 after a yesr of caution and uncertainty.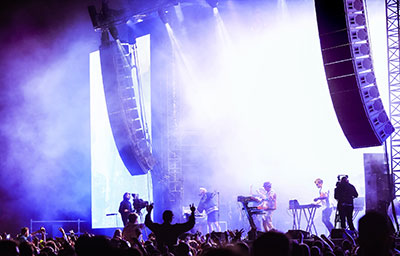 The festival relied heavily on local talent, with more than 35 Kiwi artists including performing on multiple stages in Hagley Park, supported by sound from d&b audiotechnik. Western Audio, the audio supplier for the Park Stage, recommended the SL-Series (KSL and GSL) from d&b to provide powerful and flexible performance. To ensure the sound reached every member of the audience, the crew called on d&b's line array optimisation software, ArrayProcessing, and noise prediction software, NoizCalc.
Held in the centre of the city of Christchurch, Electric Avenue presented the team at Western Audio with multiple audio challenges. 'To enable the festival to go ahead, strict council noise limits needed to be met,' says Western Audio Engineering Director, Richard McMenamin. 'ArrayProcessing and NoizCalc were vital in the planning stages of the event to model and mitigate any noise issues before they were encountered. GSL and KSL were chosen for the Park Stage due to their superb sound quality and their excellent pattern control.'
Artist and sound engineer Tiki Taane was in able to experience the full potential of the GSL and KSL systems while working on the Park Stage and mixing FOH sound for the headline act, Shapeshifter, on the same stage.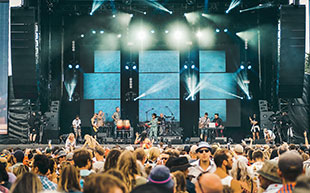 'The d&b SL System was next level huge,' Taane says. 'The clarity and frequency response to all the little mix adjustments I was making was unbelievable. I do a lot of EQ filter sweeps on the synth bass, and also on the reverb return channels for those exciting moments in the songs, and the energy coming from the d&b System was mind blowing. There was so much headroom that I was more than happy with sitting the mix at 109dB at mix position, knowing that there was still more in the tank for those big moments.'
Taane also commented that for such a large crowd, the feedback they received from the festival goers was extremely impressive, even for those who were positioned way in the back, well beyond the delay lines. 'I'd describe mixing Shapeshifter on the d&b SL System like standing in front of some sort of alien spacecraft as it lands and then takes off at full throttle leaving you in a state of euphoria, like a religious experience, where you've just witnessed in person the God of Sound.'
Festival Production Manager Bevan Hancox (Dexta) adds that everyone was satisfied with how the sound was delivered. 'We are happy with the outcome of this well-deployed rig and proud to use d&b audiotechnik – it covers all my bases and keeps the touring engineers, audience members and the promoter happy. As always, the definition was crystal clear.'
More: www.dbaudio.com