Carl Tatz Design (CTD) has completed an installation of its PhantomFocus MixRoom for a 9.1.4 Dolby Atmos sound system in a private Pacific Northwest recording facility.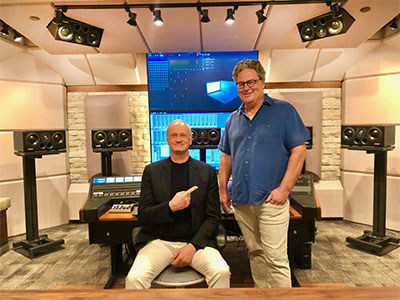 A 22-month long project for CTD in which Auralex Carl Tatz Signature Series acoustic modules were used throughout the design process, the PhantomFocus MixRoom was part of an ambitious ground-up multi-media complex venture, all Dante connected, that included a full video production control centre and large performance venue, also Dolby Atmos-enhanced and installed by E-coustics Systems.
Calling on the studio design firm's full arsenal of Precision Monitoring Instrument components, the set-up includes 13PFM HD-1000 Master Reference Monitors powered by 13 300W OA monoblock amplifiers, two CTD PF 8800 digital processors, four PFM Ice Cuble-12 Subwoofers, a Carl Tatz Edition Argosy Workstation, nine custom PhantomFocus Monitor Standsand the PhantomFocus eChair.
'This was an exciting project for us, having installed multiple 5.1 and 7.1 surround systems over the years, but never Atmos and never with our new PFM HD-1000 Monitors, so we jumped at the chance knowing it was going to be very special,' explains studio designer, Carl Tatz. 'In the end, I think we were able to surpass everyone's expectations, including our own.'
'This is a spectacular job, with unsurpassed imaging and timbre – a showcase install,' adds Dolby Laboratories Director of Content Dan Sperry.