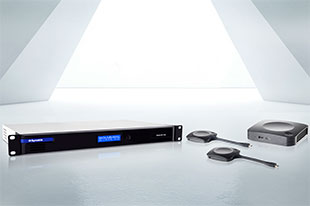 Symetrix has announced compatibility between its Radius NX DSP and Barco ClickShare Conference for presentation and conferencing applications of all sizes.
Barco's ClickShare Conference provides wireless conferencing compatible with a PC, laptop or Mac device running Windows, Android or iOS operating systems to add conference facilities to meeting rooms. When combined with a Radius NX DSP, the combination provides Bring Your Own Meeting (BYOM) functionality to environments needing a more powerful audio solution.
The Radius NX allows the creation of custom audio processing perfect for the specific needs of the room, including support for multiple microphones and loudspeakers. Once connected to the ClickShare Conference via USB, audio from conferencing software on a wirelessly connected computer is heard throughout the room.
'Radius NX is the perfect conferencing DSP solutions delivering best in class sound quality, powerful custom processing, and flexible control,' SAYS Symetrix Director of Product Development, Ben Olswang 'And when combined with ClickShare Conference, users can connect their devices wirelessly while still using the room's speakers, mics and processing. This system is incredibly easy to use and sounds incredible.'