Gaetan Byk is now principal and majority shareholder of Amadeus, the French designer and manufacturer of high-end and professional audio equipment.
'For many years, my mission has been to find a space for Amadeus, a unique place where technological innovations with arts and crafts, combine and complement each other,' Byk says. 'I think we need to go where our main competitors cannot, do not know how to, or do not want to go.'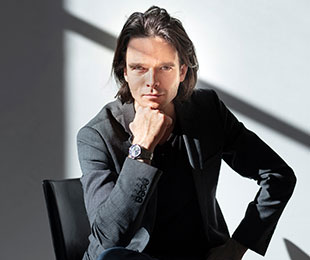 Over the past ten years, Byk has guided the company and its products, including the Philharmonia reference monitor created with world-renowned architect Jean Nouvel for the Philharmonie de Paris concert hall recording studios; stone-clad loudspeakers for the Panthéon; loudspeakers made of Cor-Ten steel designed for the Krug Champagne House; and the nearly 40m-long bespoke sound ramp for the Festival d'Avignon, the largest performing arts theatre festival in the world.
Amadeus has also equipped major venues and festivals all over the world, including Asia Culture Center (South Korea), Beijing National Indoor Stadium (China), Festival d'Aix-en-Provence (France), and the Jarasum International Jazz Festival (South Korea).
Collaborating with Ircam and other French institutions, Amadeus also figures among the pioneers of spatial sound for the live field. 'The success of the Holophonix project, a sound processor that already equips some of the most prestigious musical, theatrical or international museum institutions, confirms our views in this direction,' adds Byk.
The Holophonix immersive sound processor with its extensive and powerful control software has been adopted by venues including the Théâtre National de Chaillot, La Scala, La Comédie Française and others.
'The development of the Holophonix brand, based around spatial and immersive sound, led us to new areas and markets,' states Byk. 'I think there will always be a place for innovative and unique products, as well as creative solutions that are designed, developed, and manufactured-on-demand.
'Our approach is rather transversal and our technical knowledge within the company is very complementary,' he explains. 'We mainly work in the electro-acoustic industry, namely the production of loudspeakers for live entertainment applications and high-end hi-fi through the Philharmonia brand. We also deal with, on purely acoustic issues, the world of the recording studio, for many famous artists, producers, arrangers, and commercial studios. These departments have been, and continue to be, managed by Michel Deluc.'
Deluc – co-creator of the original Amadeus brand with Bernard Byk 30 years ago – has created many of the company's unique speaker designs and remains at Amadeus to lead specific design and manufacturing projects.
'My goal is to remain, as far as possible, the majority shareholder of the Amadeus company structure to preserve our DNA and above all not enter into a logic of unbridled growth,' he adds. 'My wish is to do better, not more.'