With additional football games and projects in prospect, mobile network specialist O2 Czech Republic has added a new Broadcast Solutions Streamline OB van to its fleet, complementing an existing model systems integrator Broadcast Solutions delivered a couple of years ago.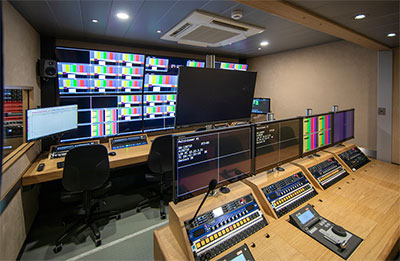 The new OB van is a S12T from the Streamline OB van family (based on a truck chassis) and works with up to 12 cameras (HD). As was the case for the first OB, Broadcast Solutions cooperated with Slovak partners Electronika as and IVC to build and deliver the Streamline S12T to the customer.
The Streamline S12T is designed as a truck/box body combination with one extension, offering space for up to 14 workplaces and up to 12 cameras.
'We´ve been in close contact with Broadcast Solutions for many years,' says IVC CEO, Jan Chodora. 'Our extraordinary mutual rapport is based not only upon their engineering skills and experiences but especially on friendly atmosphere and mutual trust. Based on that we successfully delivered several OB vans already and therefore when new projects arise our decision to co-operate on that with Broadcast Solutions is natural.'
The O2 Czech Republic OB truck can work with up to 12 cameras and was delivered with ten Grass Valley cameras. In addition to a Grass Valley Kula 3 M/E vision mixer and EVS Slomo Servers, audio iserved by a Lawo mc256 console.
Riedel's MediorNet (with 15 MicroN units) act as the routing platform. Combined with two video stageboxes, based on Riedel's Compact Pro and one audio stagebox, based on Lawo's Compact I/O the OB is perfectly equipped to be ready for all interconnectivity and upgrade possibilities. Talkback and intercom also depend on Riedel equipment. As the overall control layer all parties opted for Lawo's Virtual Studio Manager system.