'Bearing in mind this was staged in a football stadium the sound was outstanding,' says 2011 Eurovision Song Contest Production Manager, Ola Melzig.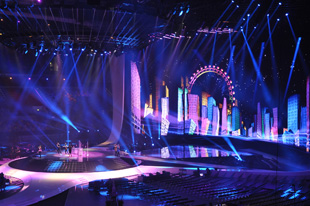 The live final took place in the Esprit Arena in Dussledorf, during May. For the team at d&b audiotechnik – manufacturer of the FOH system that was to serve the event – the sheet metal construction of the arena offered a serious problem: 'The roof structure is enormous, all corrugated metal,' says Jochen Jensen, NDR Head of Sound for the live event – NDR is part of ARD, the German broadcast union; although the regional broadcaster for northern Germany, it took responsibility for the whole ESC production.
Formerly a football stadium, the arean is not a sound-friendly environment. 'With a reverberation time of six to eight seconds, it was absolutely critical we keep sound energy from hitting the roof, or reflecting off the floor up to it,' Jensen confirms. 'My first thought was to find the specialists who could help me with this.'
Fortunately for Jensen, a colleague from Hamburg knew a lot about stadium sound. 'I called Ralf Zuleeg at d&b audiotechnik and asked if he could help,' he says, 'It would require a big commitment from d&b, I warned him.'
'Yes of course we wanted to do it,' Zuleeg responded. 'Who wouldn't?' Management agreed, not least Werner 'Vier' Beyer, the so called ears of d&b, 'With such a "no compromise" production comes a chance to learn and experience handling of this sized genre of live sound reinforcement. Great, I said, let's look deeper into it.'
The resulting system comprising required more than 300 loudspeakers drawn from three main elements from the d&b range – the Q, J and T-Series. 'In collaboration with my old friend Jochen, we conceived a distributed system solution that properly delivered the correct direct to reverberant ratio throughout the venue,' explains Zuleeg. 'In simple terms, a set of three concentric circles of PA radiated out from the main stage. The first ring needed to point acutely down onto the front rows of the audience. And consider this – we had to fly every part of the PA above 18m to be clear of the camera angles. For this, the Q-Series with its lower weight and slightly narrower dispersion angle proved ideal. We adapted the Q rigging system to take flying frames top and bottom of the line array to achieve the necessary acute downward angle.
'For the next two rings, the J-Series took the main role. Here the need to tilt down was not so acute, but the throw distances were typically 55m to 65m. Finally the T-Series was used for the "nosebleed" seats at the very top of the grandstands. Here, the audience were so high relative to the stage that the need to use a physically smaller line array that could still deliver the required punch without blocking their sightlines was essential.'
All d&b equipment was supplied by Crystal Sound with support from the wider d&b network, overseen by Simon Klumpp, with all consoles front of house and monitors provided by Neumann & Muller. 'I think NDR is fortunate to have a man of Jochen's calibre to oversee such an event,' concludes Zuleeg. 'There can't be many TV companies in the world who have a man with the kind of skills he brings to the event.'
Jensen pronounced it a job well done: 'they all did an excellent job. This show was all about performance; the PA system, the personnel, and most importantly the artists themselves. All produced a world-class result.'
Alongside the live audience at the Espirit Arena, the event was broadcast to more than 120m viewers in Europe, via more than 40 networks. Read more here…
More: www.dbaudio.com
More: www.democracyforlisteners.com