Now located on one of Berlin's most elegant boulevards, the Kurfürstendamm, the new home-based studio of Grammy-nominated music producer, mixer, remixer and mastering engineer Sascha 'Busy' Bühren is centred on Solid State Logic's UF8 advanced DAW controller and UC1 hardware plug-in controller.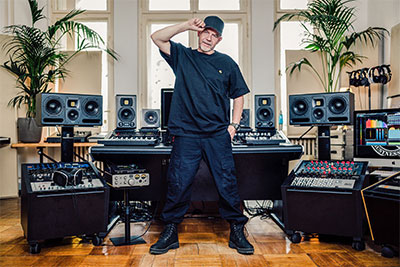 The relocation came after he and partner, Laura, who together own and operate TrueBusyness Musicproductions, were driven out of their former two-storey studio facility in the city by its gentrification.
In addition to Bühren's mastering room and production and edit suites, the previous TrueBusyness complex housed a music production and mix room equipped with a 48-input SSL AWS 948. The room attracted a lot of business, including major hip-hop artists such as Waka Flocka Flame and Swizz Beatz.
Bühren says he missed having faders available to him when working in his mixing room at the old facility – having had to part with the AWS 948 when he and Laura moved into their new apartment, which was built in 1899 and has 13ft ceilings and original parquet floors. 'Then SSL launched its UF8 controller and it was game over,' he says: 'What I always needed was a control surface to dive into the SSL world again. It's just an amazing piece of gear that I've really missed through all the years.'
The UF8, which he purchased from Audio Pro, SSL's distributor in Germany, bridges the gap between his former separate mastering/mixing and production rooms. 'Now I have one studio with everything in the centre of the room,' he says. 'I have my Sterling Modular studio furniture with outboard. Everything is reachable from where I'm sitting; I don't have to move.'
Bühren started out as a DJ in the late-1980s, and was bitten by the mastering bug when he took an early major label band project to Tony Dawsey at Masterdisk in New York City more than 20 years ago. He has since garnered Gold, Platinum and Diamond certifications for his mastering projects across multiple music genres for a long list of clients including Seeed, Paul McCartney and Helloween.
With his focus now on mastering and mixing, Bühren also purchased a UC1 as soon as it was available. 'It's really changed the way I mix in-the-box. Now, I can go on location and just pack my Macbook, my interface, some nice headphones and the UC1 and UF8,' he says. 'I just need these little boxes and I'm free.'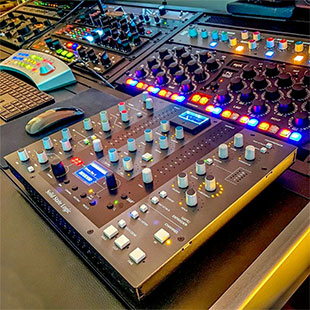 Most importantly for his workflow, the controllers are his gateway into the mix. 'I just press the 360° button and the mix pops out. I have all the channels in view and I'm sitting in front of a real desk. Just like on a board, you put your compressor on the master bus, the new Channel Strip 2 on each channel, and you're good to go. And it's almost latency free.'
The UF8 and UC1 run under a single instance of SSL's new 360° software; the UF8 stores all pertinent information, user setups and preferences.
The UF8 enables a user to quickly switch between different DAW platforms. 'Some days I do four or five mastering jobs in Pro Tools and I also do a lot of mixing jobs in Logic. The great thing is that you can switch between layers,' Bühren says. 'Pro Tools and Logic are running in parallel in the computer and my faders control it all.'
Obviously a fan of the SSL sound, Bühren also has an outboard SSL XLogic rack outfitted with a variety of E and G series EQ modules in addition to an SSL Fusion multi-processer, racked within arm's reach, both of which he purchased with his AWS 948 console. 'I have always loved the E series EQ,' he says. 'There's nothing comparable. It was a surgical EQ from the first moment.'
He reports that he started using plug-in recreations of SSL hardware as soon as the company began licensing third-party developers about 15 years ago. Then, earlier this year, SSL introduced a special price in Europe for its SSL Native plug-in collection, which includes the new v2 of the Channel Strip and Bus Compressor. 'That has replaced all my other plug-ins for SSL,' he says. If he needs to introduce alternative tones and character using any of his other outboard hardware, he inserts it via his audio interface.
Having worked on a succession of hardware mixing desks and controllers over the years, including the AWS 948, Bühren advises any engineers and mixers who have only worked in-the-box to try out the UF8 controller. 'It gets you away from the mouse,' he promises. 'And it will help you be a better mix engineer.'
Sitting at his Sterling console with the UF8 under his left hand and the UC1 under his right hand, he adds: 'With these, new features come up as I'm working on them. That makes it very interesting. A lot of the music that we work on is static. You're moving the mouse; you have your routines. I like working on stuff and discovering something new. You can scroll through your arrangement window. I have a mouse on the right side and the Channel knob [which controls the position of the DAW playhead] on the left side. So it's interactive now, like playing a keyboard.'
More: www.solidstatelogic.com