Among the venues chosen the Summer Olympics – and one of the most important sports facilities in Japan – Yokohama Stadium is the home field of the Yokohama DeNA BayStars baseball team but has also staged concerts from the likes of Santana, David Bowie, Madonna, and Michael Jackson.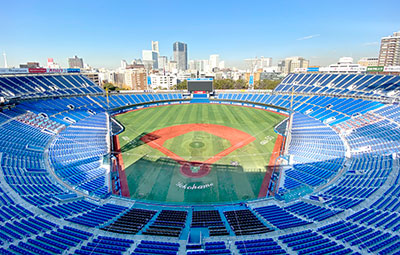 It began life in 1876 with cricket competitions until it was reconstructed as a baseball stadium with 15,000 seats in 1929. Then, in 1978, the stadium was rebuilt as the first multi-purpose venue in Japan, and officially named Yokohama Stadium.
After a renovation begun in 2018, it was chosen as the venue for 2020 Tokyo Olympics and Paralympics, with added seating to increase its capacity to more than 34,000 RCF components were chosen for a sound reinforcement system to serve both sports and entertainment events.
The RCF loudspeaker system serves as a PA/GA (public address and general alarm) system using two arrays of four TTL 33-WP each placed on six light poles around the stadium (total 48 speakers) as the main system.
The stadium has expanded seating on each side, requiring coverage from four P4228 boxes placed on the top edge of the left wing, and five on the right wing. Additionally, nine P3108 boxes and a P4228 are located under balcony to cover the seats behind the pitcher's plate. A single P2110-T and accompanying P8015-S cover the dugout.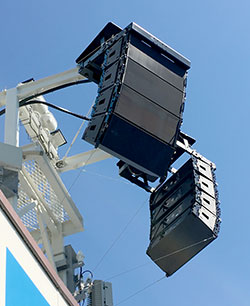 'In the renovation of Yokohama Stadium, our mission was to achieve both excellent quality for entertainment as a ballpark and clarity as a broadcasting facility.' says Onkyo Tokki lead engineer, Taketoshi Kobayashi. 'TTL 33-WP and other RCF loudspeakers were essential to maintain clarity of the sound without losing the volume of the lower part of the spectrum, contrary to the situation where the volume in the low frequency is lost due to prioritising clarity, which is often seen in outdoor facilities. I was impressed by RCF's intelligibility.
'The system is perfect for the size and shape of the facility. In particular, sound from opposite sides of the field is well controlled. Currently, there are lots of sports facilities with line arrays installed. Still, the sound is well controlled here, and this also contributes to the improvement of clarity and sound quality.
'The support of the RCF team during the process was excellent,' he adds. 'Quick response to changes in rigging points and model selection was an essential factor in the success of this project.'
See also:
Xi'an Olympic Centre powers up for China Games
More: www.rcf.it