Seeking a studio monitor controller for his Studio C, part of Barefoot Recording in Los Angeles, songwriter, producer and mixer Mike Pepe alighted on Audient's Nero – and found himself taking an Evo 8 audio interface as well.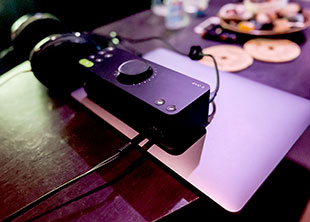 With engineering credits including Taking Back Sunday, As It Is and Sydney Sprague, Pepe needed desktop monitor controller with a strong feature set that didn't compromise fidelity. Nero fit the bill exactly…
'High quality audio with all the options I want in a little sturdy box that can sit right in the studio and not be in the way,' he says. 'I love the assignable headphone sends and all the routing options it has. Also it's a completely transparent box that feeds my monitor set-up which is all I want.'
While Nero was his primary requirement, Pepe was also on the lookout for a travel-friendly interface for his mobile rig – used when doing production or recording work away from his set-up at Barefoot. Audient's Tim Jones was quick to recommend the Evo 8 audio interface.
'When I do pre-production with a band I'm going to do a record for, we'll get together at their rehearsal space or another location to start nailing down the songs and completing any re-writes we may want. My Evo 8 and my laptop with Pro Tools go with me and I can capture performances of any changes or pre-pro I may need in the space with them. I bring the pre-pro back to my larger studio and am astounded at the fidelity the Evo 8 achieves every single time.
'After running some of the raw signal through some choice outboard gear at my studio there's many times a vocal or guitar that I've cut on location with a band will be almost indistinguishable from if I had cut it here at my larger studio,' he adds. 'I have also, on multiple occasions, kept certain elements from the Evo 8 pre-production recordings and used them in the final productions, and it sits so nicely next to anything else cut at my larger space.
'I enjoy its ease of use and quick set-up, too. I can get a Pro Tools session going in next to no time. That way, I can move on to the more important things, like talking with the band about parts and songs, knowing I'm ready to capture an idea at any time.'
Clients also approve of the aesthetic of the 4-in/4-out interface: 'Often, the artist will think it's a Bluetooth speaker and they're amazed when I hook up one cable and it lights up, boots up Pro Tools and we're ready to record.'
Evo 8 has also proved invaluable for Pepe's recently launched YouTube channel, a project he's been working on in his free time for fun. Taking deep dives into aspects of recording, production and mixing and drawing on his 15 years of experience, he uses his channel to connect with people who've asked him about his process. 'It's pretty in-depth nerd talk,' he says, and adds that Evo 8 is 'by far the best interface' he has used for makin the videos.
In the interim, Pepe is unlikely to be far away from his Evo 8. 'I use it at home when I want to tune vocals or edit drums and feel like doing that in my living room rather than going to my main studio,' he says. 'It's the first mobile interface I feel comfortable using at home to edit important pieces of productions.'