Paris La Défense Arena has played host to The Rolling Stones and Paul McCartney, as well as hosting rugby union fixtures for France's national side, and being the home stadium to the Racing 92 Rugby Union team.
Traditionally, large arenas such as this 40,000-capacity, multiuse indoor arena, have struggled to source a fully EN 54 compliant system that also meets audio performance requirements – mainly due to the limitations of with EN 54 compliant battery-backed systems. This challenge was overcome with the installation of a Dante-based system.
'When I first looked at designing the project at the arena, I wanted to find a way to set up one audio system that would work for both the comfort system and the security and safety system,' says Laurent Delenclos, Technical Director at Freevox, the company that handled its design and integration. 'Everyone told me that was impossible – but then I found ASL and the solution it offered with integrated Dante, and I realised that itcould work, and could work well.'
'ASL's EN 54 solution performs on all fronts,' says ASL Application Manager, Henry Rawlins. 'ASL's Vipedia audio controller combined with V2000 amplification provides the required signal-to-noise ratio, low distortion, and high power required to drive the bowl speakers. All of which is complemented by a Dante Brooklyn II module, allowing us to deliver the entertainment element as a "layer" of functionality above and beyond the core EN 54 capabilities. This approach offers both the flexibility demanded by such a venue, and the peace of mind that the emergency functions of the system are not accessible over the open Dante network.
'By merging the comfort system and the emergency system you immediately see a lot of other benefits, including substantial reductions in both up-front delivery, installation and ongoing whole life costs,' Rawlins adds.
The distributed audio system at the arena comprises five audio nodes, each with a Dante-enabled Vipedia-12-Pro audio controller providing the DSP, audio routing,and monitoring for more than 60 PA zones. All of the Vipedia unitsare networked together using both ASL's EN 54 compliant SecureLoop IP technology and with Dante.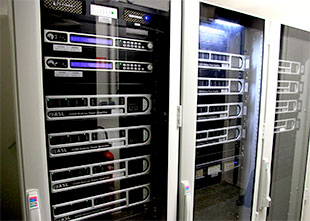 Connected to the Vipedia controllers are a number of ASL EMS emergency microphones and 22 V2000 amplifier mainframes, housing more than 100 hot swappable D500 amplifier modules. The amplifiers drive both the high-performance point-array loudspeakers in the arena bowl and back of house 100V ceiling loudspeakers. All of the speakers are certified to EN 54-24.
'The end result is a powerful hybrid of EN 54 and Dante for a multi-user, cross-platform solution that removes the boundaries between what have previously been two separate systems, without compromising on either performance or safety.' Rawlins says.
By using Dante connectivity and ASL solutions, Delenclos was able to prove the set-up he envisaged was far from impossible. 'The audio is clear anywhere you are located in the arena,' he confirms. 'With Dante, we see minimal latency across the arena, and it also works with third-party Dante enabled equipment, while ASL ensures everything remains EN 54 compliant. Due to the huge success at this site, this solution has now been modelled out at a number of sites and we hope that we have changed the way people think.'
More: www.audinate.com